Teddy Bear Templates for Kids: Colouring and Crafts
Are your kids bored at home? Looking for some creative ways to keep them entertained? How about incorporating some fun and easy teddy bear crafts and colouring activities using our free downloadable teddy bear templates?
Below are a few teddy bear printable templates that you can print out and use for colouring or crafting.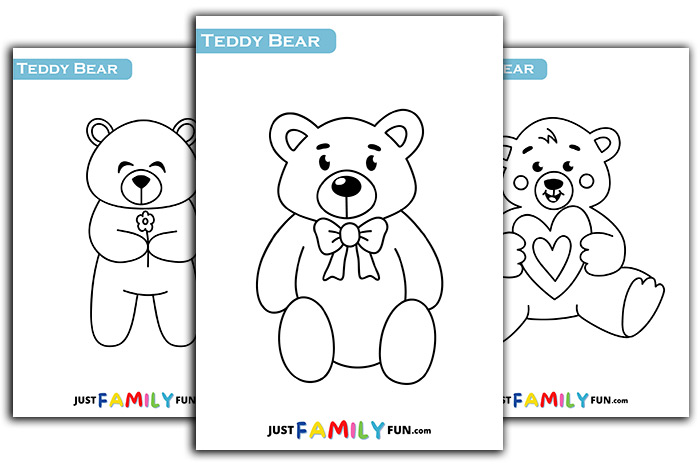 What's Included In Our Printable Teddy Templates
We've included three adorable teddy bear templates.  These templates are perfect for kids of all ages and are sure to bring a smile to their faces.
Some fun ideas include using the templates to create teddy bear invitations, bunting or as a teddy bear writing template. If you're struggling for inspiration we've included some great ideas below.
Top Fun Teddy Bear Template Crafts and Activities
Colouring Template For Teddy Bear
Our collection of teddy bear colouring templates is perfect for kids who love to colour. You can print one or more of our teddy bear templates out and let your kids use their creativity to colour them in. You can even challenge your kids to see who can come up with the most unique and colourful teddy bears.
Kids usually love colouring teddy bears! Teddy bears are cute and cuddly, which makes them a popular choice among children. They can use a variety of colours and shades to make their teddy bear creations unique and fun. Colouring teddy bear templates can be a great way for kids to work on their fine motor skills, hand-eye coordination, and creativity. Additionally, by engaging in this activity, children can experience a sense of accomplishment and pride, which can boost their self-esteem.
Teddy Bear Craft Templates
Our collection of teddy bear craft templates is perfect for kids who love to create. You can print these outlines out and use them to create a variety of teddy bear crafts.
Teddy Bear Puppet: Print out a teddy bear template and use it as a template for sewing a teddy bear to create a felt puppet. Cut out two teddy bear shapes and sew them together, leaving an opening at the bottom. Glue on felt details like ears, nose, and eyes. Use a popsicle stick or other craft item to create a puppet handle.
Teddy Bear Snow Globes: Glue one of our free printable teddy bear templates to the bottom of a mason jar or plastic container. Add glitter and water to the jar, and then glue on the lid. Shake the jar for a fun and magical winter display.
Teddy Bear Tote Bags: Using a plain canvas tote bag, use fabric markers or paint to decorate the bag with a teddy bear design. Cut out felt shapes and glue them on for a 3D effect.
Teddy Bear Finger Puppets: Print out a teddy bear template and cut out small finger puppet shapes. Decorate with markers and glue on small felt details like ears and nose. Slip these over your fingers for a fun and interactive playtime.
Teddy Bear Birthday Card Template: Cut out a teddy bear shape and trace it onto coloured cardstock or construction paper. Next cut out the teddy bear shape from the card stock, and fold the paper to create a card. Decorate and send to a grandparent, friend or another deserving recipient.
These are just a few ideas to get started with – the possibilities for teddy bear crafts using our teddy bear templates are endless!T
Free teddy bear templates are a fun and easy way to keep your kids entertained. Whether your child loves to colour or create, there is sure to be a teddy bear template that will spark their imagination. So, print out some of our templates today and get ready for hours of creative fun!