Printable Scary Pumpkin Coloring Pages
There is a chill in the air, and that means it is time for the spooky season! Need a little fright to get started? Try some scary pumpkin coloring pages. These are great fun for the whole family. Everyone from trick-or-treating toddlers to terrifying teens will love these pumpkin printouts.
Are you likely to be seen braving a haunted trail or taking your chances in a poorly lit graveyard? Do you crave a little darkness and doom? Try one of our spine-chilling, evil pumpkins. But beware, your pumpkin is watching your every move and doesn't take kindly to going outside the lines.
Prefer bobbing for apples and sipping hot cider over casting spells and slaying vampires? Maybe one of our happy little jack-o-lanterns would suit your tastes. Their adorable eyes and toothy grins will keep even the most skittish artist feeling safe.
Whatever your spooky preference may be, we have pumpkin printables for you. Our jack-o-lantern coloring pages are guaranteed to add a wicked flair to your next coloring experience. Below, you will find several ideas for how to use your scary pumpkin coloring pages to take your pumpkin party to the next level.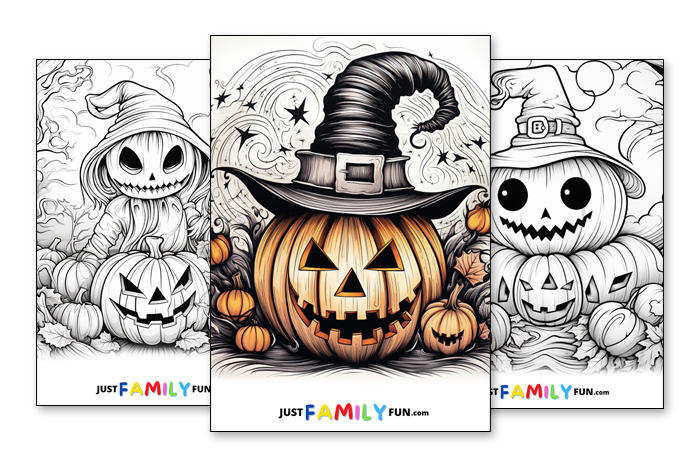 What's Included in Our Jack-O-Lantern Coloring Pages
When you download the scary pumpkin coloring pages, you will get 21 pumpkins of various shapes, sizes, and demeanors. Some pumpkins are frightening while others seem friendly…almost. Either way, there is a pumpkin for all your coloring needs.
Each pumpkin printable provides a detailed, full-page coloring experience. There are different backgrounds and accessories on each page, so even the most ghoulish artist will keep busy. Create your very own pumpkin masterpiece by downloading the jack-o-lantern coloring pages today. You and your little ghouls will not regret it.
Fun Pumpking Coloring Ideas
Need some pumpkin coloring ideas to make your Halloween spook-tacular?
Color several of the scary pumpkin coloring pages and make a pumpkin patch wall! These pumpkin printouts are detailed enough to be used as creepy decorations to make your next guest have a spine-tingling good time. If you have small children, you could set up the "pumpkin patch" and pretend they are picking a pumpkin of their very own.

Have a pumpkin coloring sheet contest with your family! Give each family member their own jack-o-lantern coloring page and see who can create the best illustration. You can create fun patterns on the pumpkin printouts for a zany and colorful look, or you can stick to orange if you prefer a traditional pumpkin. You can even use dark, mystical colors for an elegant twist that will leave your family spellbound.
Search for the hidden pumpkins! Have everyone color a scary pumpkin coloring page (or two!). Then, take turns hiding the pumpkins around the house or in the backyard for a bewitching time. For a hair-raising twist on this game, let the only light be a flickering candle while you hunt for the pumpkins…or even just the moonlight. Take it up a notch by offering spooky prizes or candy for the winner.
Use the pumpkin printables as inspiration for some pumpkin poetry! Have your family color a pumpkin and then write a poem to go along with it! Give your pumpkin personality by writing about how it feels to be carved. Describe all the terrifying things jack-o-lanterns see on the front steps in the night. The possibilities are truly endless.
Check Out Our Printable Pumpkin Face Templates
Need a little help carving your real-life scary pumpkin? Click here to download our printable pumpkin face templates. These will help even the most novice carvers create a jack-o-lantern worthy of any front stoop. Look below for examples of the spooky templates we have to offer.
Don't let the spooky season pass you by without trying our scary pumpkin coloring pages! We have something for everyone, and the whole family is sure to have a fun and frightening time with our pumpkin printables. Let your crayons, colored pencils, or markers be the magic wand this season and download our jack-o-lantern coloring pages.
If you need more ideas for fun pumpkin activities when you feel that first chill of fall, try this website HERE . The website is full of ideas to make Halloween magical for young and old alike.