Free Printable Read and Find Worksheets
Are you looking for new ways to make learning fun? Are your children learning how to read and so you're on the lookout for exciting yet educational resources? You have come to the right place because here at Just Family Fun, we've been busy creating some Read and Find worksheets to help your little ones enjoy practising their reading skills.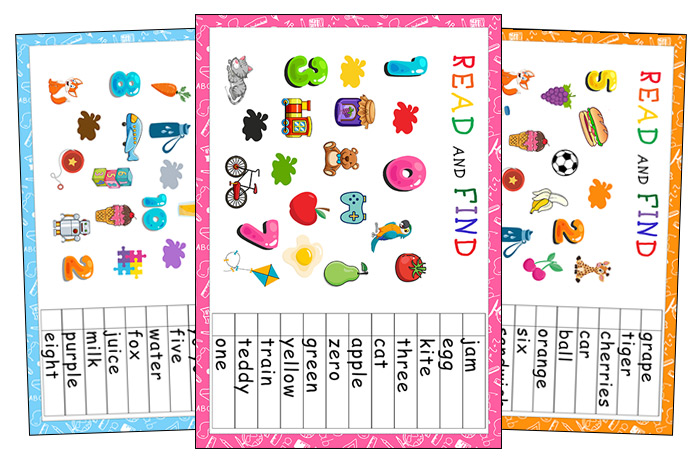 What's Included in Our Read and Find Worksheets
We have four different free printable Read and Find worksheets for you to use. Each one features a grid of twelve words including names of animals, colours, numbers, toys, foods and other objects and is illustrated with corresponding images of each item.  There is a checkbox next to each word so that your kid can tick each item off as they read and find!
The four available options for the read and find worksheets are as below:
The twelve words listed on the first worksheet grape, tiger, cherries, car, ball, orange, six, sandwich, giraffe, nine, banana and blue. There is an image of each item for your child to find once they have read each word and then they can tick it off from the grid. The worksheet is decorated with an orange border depicting sums, letters, and stationery.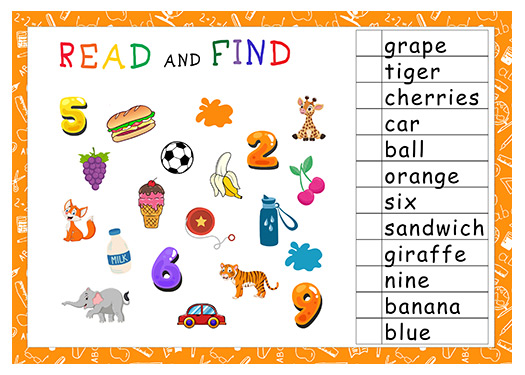 The second worksheet lists the words black, pear, bike, tomato, seven, game, red, parrot, doll, four, pink and monkey. Once your little one has read each word, they can find the image of the item on the worksheet and tick it off from the list. There is a green border framing the worksheet, patterned with learning themed images.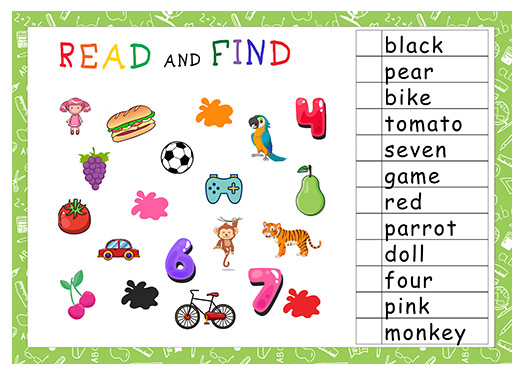 The twelve words listed on the third worksheet are jam, egg, kite, three, cat, apple, zero, green, yellow, train, teddy and one. There are images of each word on the worksheet and the words are listed in a grid on the right-hand side of the page, each with a checkbox to be ticked once your child has read and found each one. The school themed border around the page is pink.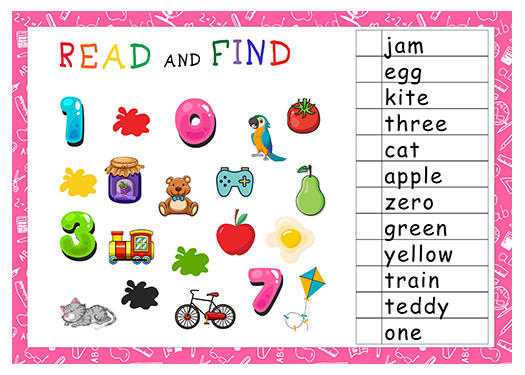 The fourth worksheet lists the words ice cream, puzzle, elephant, two, yoyo, five, water, fox, juice, milk, purple and eight. There is a checkbox next to each word for your child to tick off when they find the corresponding image. The page is bordered by a blue design with a fun design showing globes, books, and other learning themed pictures.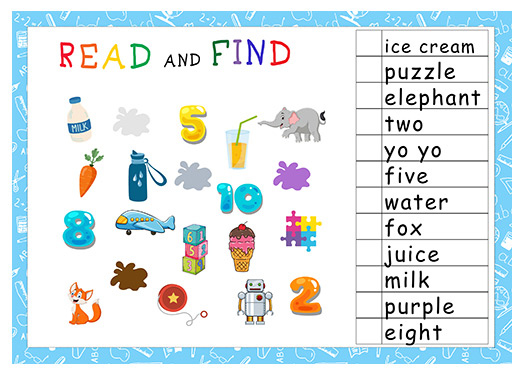 With four Read and Find worksheets to choose from, these should keep your little ones busy for quite some time but when they have worked through each one, the fun doesn't have to stop there.  Take a look at a few of our other ideas below.
If your child is ready to practise writing these words, they can copy the list to try to perfect each word. Why not get the colouring pens out and let them have a shot at drawing the items too?
If you want to continue the Read and Find learning fun, why not take a look at our other free printable reading worksheets? There is a wide range of fun and educational worksheets to choose from.
For a live-action version of Read and Find, write out a list of words that can be found around the home and let your little ones hunt them down! Not only is it a fun activity to pass a rainy day, but it's also the perfect way to get some mental and physical activity in!
Reading is a key skill that will help your children to navigate their lives throughout education and beyond… but that doesn't mean that learning to do it can't be exciting! Using our Read and Find worksheets will make practising reading fun. It could be a great gateway to your child learning to read for pleasure later in life.
If you've used any of our reading tips alongside our free Read and Find worksheets, or if you've had any great reading ideas of your own, please feel free to share your stories and pictures with us on Facebook, Twitter, or Pinterest.  We never get tired of seeing our free resources bring exciting, educational fun to your family!