Childrens Printable Unicorn Mask
Hey there, my imaginative little unicorn lover! Are you ready to embark on a magical adventure like no other? Introducing our incredible Printable Unicorn Mask that will whisk you away into a world of wonder and excitement.
Whether you're hosting a whimsical tea party, parading through enchanted lands, or diving into thrilling storytime, this printable unicorn mask is your ticket to a realm of pure fantasy.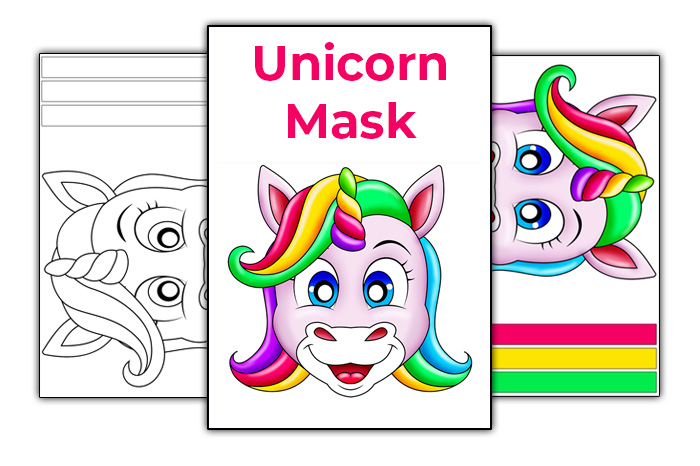 Why Our Printable Unicorn Mask is Simply Awesome:
Easy-Peasy: No need to stress, Dad! Our printable unicorn mask is super easy to use. All you need is a printer, some paper, and a few basic crafting supplies, and voila! You'll have a magical mask ready in no time. It's a DIY project made simple for kids and their handy dads!

Colors Galore: We've got something special for you, my creative kiddo. Our printable unicorn mask comes in two versions: a vibrant, pre-colored one and an outline version waiting for your artistic touch. Let your imagination run wild as you make your unicorn mask truly one-of-a-kind. It's your chance to be a unicorn designer!

Snug as Can Be: We know comfort matters, which is why we've designed our unicorn mask with an adjustable strap. Simply attach it using tape or glue, and it'll fit you perfectly, no matter your age. Get ready for hours of comfortable and enchanting playtime as you venture into the magical realm of unicorns.
Activities to Try with Your Printable Unicorn Mask:
Unicorn Parade: Organize a delightful unicorn parade in your backyard or living room. Let your child and their friends wear the unicorn masks and parade around, spreading joy and magic wherever they go. It's a memorable event that creates cherished moments for everyone involved. Capture the magic with photos!

Magical Tea Party: Host a whimsical tea party with a unicorn theme. Your child can don the unicorn mask while sipping imaginary tea and indulging in scrumptious treats. Encourage imaginative conversations about unicorns and their enchanting world. It's a delightful opportunity to bond and spark their imagination.

Bedtime Stories: Create an enchanting bedtime routine by incorporating the unicorn mask into your storytelling sessions. Encourage your child to become the protagonist of a magical unicorn tale as you weave a captivating story together. Let their imagination run wild as they immerse themselves in the world of unicorns before bedtime.

Craft Corner: Set up a craft corner where your child can decorate their unicorn mask. Provide an assortment of craft materials such as glitter, sequins, feathers, and colorful markers. Watch as their imagination takes flight while they embellish their mask with their unique flair. It's a fantastic opportunity for them to showcase their artistic skills and create a mask that reflects their personality.
Download More Printable Animal Masks:
But wait, there's more magic to explore! Visit CLICK HERE and discover an enchanting world of printable masks beyond unicorns. From brave lions to playful dogs and graceful cats, there's a whole collection waiting for you. These masks are perfect for easy kids crafts, imaginative play, and creative adventures.
Crafting these masks is a breeze. Simply print, carefully cut out the mask and straps, and attach them with tape or glue. It's an engaging activity that promotes fine motor skills, creativity, and imaginative play. Let your imagination soar with our printable unicorn mask and other delightful designs!
Don't miss out on the captivating world of printable masks. CLICK HERE  and let the extraordinary adventures begin! Embrace the magic of printable unicorn masks and watch as your imagination takes flight in a world filled with whimsy, joy
Fancy Even More Unicorn Crafts?
If our children's printable unicorn mask didn't quench your thirst for unicorn magic, why not head over to Glued to My Crafts Blog? There, you'll discover a delightful craft project that involves building unicorns from plates. It's a fun and creative activity that will add an extra dose of enchantment to your unicorn adventures. Let your imagination soar and create your very own unicorn masterpiece!