60 Printable Googly Eyes Templates
Welcome to JustFamilyFun.com, your ultimate source for exciting and engaging printables, including our fantastic collection of printable googly eyes templates! In this blog post, we are thrilled to introduce our latest creation, which opens up a world of creative possibilities for kids.
With these colorful and versatile eye designs, children can explore their artistic skills and indulge in a wide array of craft projects.
Our printable googly eyes templates are available in two versions: version 1, featuring vibrant colors, and version 2, a black and white outline that allows for endless coloring fun.
So, let's jump right in and uncover the boundless joy that these printable googly eyes templates have to offer!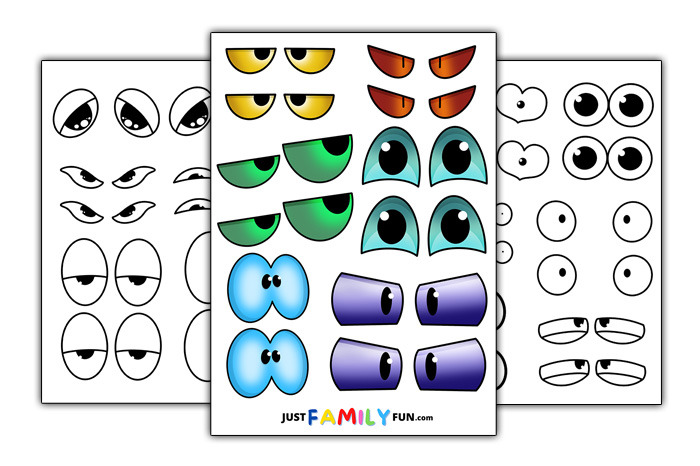 What's Included In Our Printable Googly Eyes Templates:
When you explore our collection of printable googly eyes templates, you'll receive a total of 12 pages filled with delightful eye designs. Here's what you can expect:
1. Six Pages of Colorful Googly Eyes:
– These pages feature a vibrant array of googly eye designs in various shapes and sizes.
– The colorful googly eyes are ready to be cut out and used straight away in your craft projects.
– These eye-catching designs add an instant playful charm to any creation.
2. Six Pages of Black and White Outline Googly Eyes:
– The remaining 6 pages offer black and white outline versions of the googly eye designs.
– These outlines allow children to showcase their creativity by coloring and customizing each eye.
– Kids can explore different color combinations and bring their own unique vision to life.
With a total of 12 pages of printable googly eyes templates, you have a wide variety of options to choose from. The colorful eyes are perfect for quick and easy crafting, while the black and white outlines provide an opportunity for personalized and imaginative coloring. Let your child's creativity shine as they bring these delightful googly eyes to life in their craft projects!
To Use Our Printable Googly Eyes, Follow These Simple Steps:
To use our printable googly eyes, you'll need just a few simple materials: a printer, scissors, and coloring pens. These versatile and creative tools will allow you to bring the googly eyes to life and add a unique touch to your craft projects. Let's dive into the easy steps for using our printable googly eyes templates and unleash your creativity!
Download: Click the download button to get the PDF file with the googly eyes templates.

Print: Use a color printer to print the pages. Ensure you have enough paper and ink.

Cut: Carefully cut along the outlines of the eyes using scissors.

Optional: Color: If desired, color the eyes before cutting them out.

Safety: Remember to have adult supervision when using scissors.
Now you're ready to unleash your creativity and incorporate these delightful googly eyes into your craft projects!
Fun Googly Eyes Crafts: Get Creative with Playful Eye Decorations!
When it comes to googly eyes crafts, the possibilities for fun and creativity are simply endless! These delightful and wiggly eyes have the power to bring everyday objects to life, turning them into whimsical characters and adding a playful touch to your craft projects. Let's dive into some exciting crafts that you can enjoy with googly eyes. Get ready to ignite your imagination and have a blast crafting with these charming eye decorations!
1. Googly Eye Monsters:
– Create adorable and silly monsters by sticking googly eyes onto pom-poms, rocks, or even empty toilet paper rolls.
– Get creative by adding additional features like pipe cleaner arms, felt mouths, or fuzzy pom-pom noses.
– Let your imagination run wild as you design a whole family of googly eye monsters with unique personalities.
2. Googly Eye Photo Props:
– Make your photos extra fun and whimsical by creating googly eye photo props.
– Attach large googly eyes to wooden sticks or straws to create props like silly glasses, mustaches, or even animal faces.
– Use these props during family gatherings, parties, or just for entertaining photo sessions with friends.
3. Googly Eye Bookmarks:
– Personalize your reading experience by making charming googly eye bookmarks.
– Cut out strips of colorful cardstock or use pre-made bookmarks as a base.
– Glue googly eyes near the top of the bookmark, allowing them to peek out over the pages of your favorite books.
– Add additional decorations like stickers or ribbons for an extra touch of creativity.
4. Googly Eye Magnets:
– Transform plain magnets into lively and eye-catching pieces of functional art.
– Attach small googly eyes to flat magnets using strong adhesive.
– Arrange the googly eyes in various patterns or designs to create a whimsical collection of magnets for your refrigerator or magnetic board.
5. Googly Eye Cards:
– Design unique and playful greeting cards using googly eyes.
– Fold colorful cardstock to create a card base.
– Attach googly eyes to represent characters or objects on the front of the card.
– Write personalized messages inside and surprise your loved ones with these fun and memorable creations.
6. Googly Eye Puppets:
– Craft your own googly eye puppets using socks, felt, or paper bags.
– Attach googly eyes to bring your puppets to life.
– Decorate the puppets with additional materials like yarn for hair, fabric scraps for clothes, or markers for facial expressions.
– Put on a puppet show or use them for imaginative play, letting your googly eye puppets entertain and delight.
Get ready to have a blast with these googly eye crafts! Whether you're creating googly eye monsters, decorating bookmarks, or bringing characters to life with puppets, these craft projects are bound to spark joy and unleash your creativity. So gather your googly eyes, grab your craft supplies, and let the fun begin!
In conclusion, exploring the world of googly eye crafts is an incredibly fun and imaginative experience. These quirky eye decorations have the power to turn ordinary objects into extraordinary creations, sparking joy and laughter along the way. From googly eye monsters to photo props, bookmarks to magnets, cards to puppets, the possibilities are only limited by your imagination.
Remember, these googly eye crafts are just the beginning of the exciting printable projects available at JustFamilyFun.com. We offer a wide range of fun printables to fuel your creativity and keep the fun going. If you're eager to discover more engaging activities like this, simply click here to explore our vast collection.
So, gather your supplies, let your imagination run wild, and dive into the world of googly eye crafts. Create memorable moments, share laughter with family and friends, and enjoy the process of bringing these playful eye decorations to life. Happy crafting!
Click here to access more fun printables like these.