8 Printable Bookmarks For Kids To Color
Reading is not only crucial for a child's cognitive and emotional development but also acts as a gateway to knowledge and imagination.
At JustFamilyFun, we are dedicated to cultivating a love for reading in children by making it an enjoyable experience. Through our 8 Printable Bookmarks For Kids To Color, we aim to merge the worlds of reading and creativity.
These captivating bookmarks not only add a touch of fun to reading but also empower children to express their unique personalities and artistic abilities. By encouraging self-expression, we foster a deeper connection between children and the written word, promoting a lifelong love for reading and learning.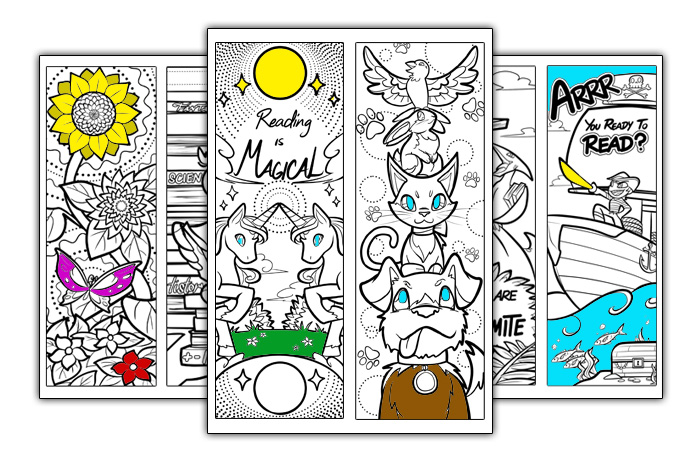 What's Included In Our Printable Bookmarks For Kids Templates
Our collection of 8 free printable bookmarks offers a wide range of designs to choose from. Whether your child is into unicorns, dinosaurs, monsters, pirates, flowers, the solar system, bookworms, or pets, we have a bookmark to cater to their interests. Each bookmark is ready to be colored in and personalized according to your child's preferences.
Details about Each Bookmark:
Unicorn Bookmark: This adorable bookmark features two cute unicorns that can be colored in any way your child desires. They symbolize the magic of reading and are perfect companions for any adventure your child embarks on. 

Dinosaur Bookmark: Fear not, these awesome dinosaurs are here to help your child read! With no definite appearance, your child can let their imagination run wild while coloring these dinosaurs. Whether they choose green, blue, or even rainbow colors, these dino-mite creatures make reading adventures even more exciting. 

Monster Bookmark: Don't be scared! This friendly monster is here to accompany your child on their reading journey. With this monster bookmark, your child will feel safe from any literary villains they encounter, making reading a monstrously good experience. 

Pirate Bookmark: Ahoy, matey! Prepare to set sail and go on thrilling adventures with this pirate bookmark. If your child loves swashbuckling pirates, this bookmark is perfect for them. Your child can color the pirate and even choose the color of the pirate ship's sails. With this trusty pirate friend, reading explorations become even more captivating. 

Floral Bookmark: If your child enjoys getting lost in intricate patterns, they will love this floral bookmark design. With a variety of patterns and a butterfly flying through the scene, this bookmark stimulates creativity and provides a beautiful companion for young artists as they read. 

Solar System Bookmark: Embark on an interstellar adventure with this space-themed bookmark. From the sun to the outer planets, your child can color in the solar system as it is or create their own version. Perfect for aspiring astronauts or space enthusiasts, this bookmark encourages imagination and opens up a universe of possibilities in their reading. 

Bookworm Bookmark: Celebrate the joy of reading with this bookworm bookmark. Featuring a friendly owl, this bookmark embodies the love of learning. Your child will be inspired to read and discover new facts alongside their wise companion, nurturing their passion for knowledge. 

Pets Bookmark: Does your child dream of having a pet? This bookmark brings their pet fantasies to life. They can color in the dog, cat, rabbit, and bird, creating their ideal companions to accompany them on their reading adventures. These adorable pets are sure to make reading even more enjoyable.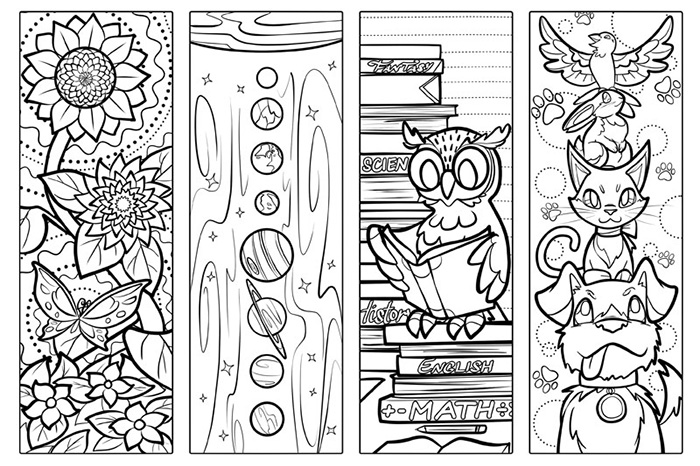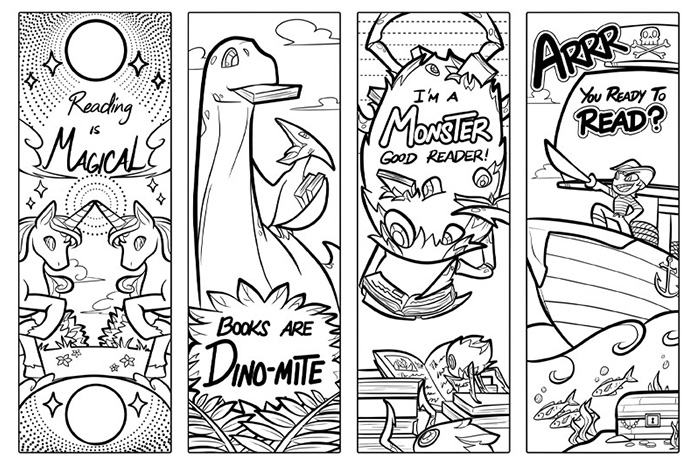 By printing out and coloring these free printable bookmarks, your child not only engages their creative mind but also enhances their motor control and pencil holding skills. These personalized bookmarks become cherished tools that your child can use with every book they read, fostering a love for reading. Additionally, they offer a break from digital devices and inspire artistic expression. Let your child's imagination soar as they bring these fun scenes to life through coloring. Treasure these bookmarks as precious keepsakes of their early reading years.
If your children had a blast coloring our bookmarks, they might also enjoy our exciting coloring activity sheets. But why stop there? For even more coloring fun, we invite you to explore our partner site, JustColoringFun.com. It offers a vast collection of hundreds of free coloring pages that are sure to delight your little ones. From cute animals to enchanting landscapes, there is something for every child's taste. Expand their coloring horizons and let their creativity soar with endless possibilities on JustColoringFun.com.