Pin The Nose On The Pumpkin Halloween Game
Pin the Nose on the Pumpkin brings a whimsical and slightly eerie charm to your October birthday parties and festive autumn gatherings.
This playful Halloween adaptation of the classic Pin the Tail on the Donkey game is sure to evoke laughter, excitement, and spirited competition among your friends and family.
Whether you're hosting a spooky-themed birthday bash or simply looking for a unique way to infuse some seasonal fun into your get-togethers, this special game promises an unforgettable experience filled with thrilling moments and shared memories. So, gather your loved ones, don your costumes, and get ready for an October adventure that's as heartwarming as it is spooky!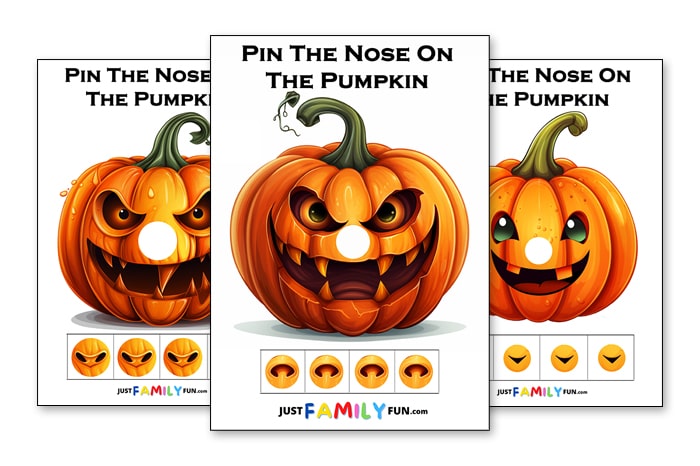 What's Included In Our Pin The Nose On The Pumpkin Game
Our funny pumpkin game features three different jack o' lanterns. Two of them display wacky, wicked grins that will give your guests a family friendly scare. The third has a friendlier expression, which may be more approachable to younger and more sensitive children. Every pumpkin has its own page, each with a set of four noses.
Our Pin the Tail on the Pumpkin

sheets




Scissors (preferably child safe

ones)




Push pins (the regular kind will

probably be fine, but there are less pointy ones made of all

plastic) or double-sided tape




A pen or marker




A small container (a cup or bowl

will do)




A surface that is safe to poke

holes into and/or tape things against

A blindfold (a handkerchief,

napkin, or other piece of cloth is fine)
If you feel your child is able to do so safely, you may want to let them help you. It can be a fun activity to bond over and may give them a sense of accomplishment by allowing them to make their own contribution to preparing the game. Follow these steps:
Print out the sheets. You may want

to make at least two sets so you will have extras in case of an

emergency.



Trim off the part of the page with

the noses.



Cut along the lines and separate

the nose pieces from each other.



Write the names or initials of

each guest who will be participating somewhere on one of the nose

papers. If you have more than 12 guests, you can get more noses from

extra sheets and set aside the spares as backups.



Put the noses in the small

container to help keep them from getting lost or damaged before it

is time to play.



Store the pins or tape you will be

using near the noses, being careful to set all of it out of the way

and high up so they will not get knocked over or played with ahead

of time.



Secure the pumpkin papers to a cork board, foam board, piece of cardboard, or any other safe surface at eye level for the children. If the kids vary a lot in size, set different pumpkins to different heights.
Make sure everyone understands the

rules before you begin.




Have the children form a line to

minimize the chaos when it's time to figure out who will go next.




Prepare each child's nose for

them at the start of their turn, poking the pin through the paper at

the top or sticking double-sided tape to the back before carefully

handing it to them. Be sure to monitor small children carefully so

they do not prick themselves or try to put anything in their mouths.




Blindfold the child and spin them

until they are dizzy.




Gently guide them in the direction

of their jack o' lantern, letting them take the last few steps on

their own so they can try to pin their nose to the pumpkin.




Whichever players get their noses closest to the blank white circle at the center of a pumpkin's face wins!
How To Make the Game More Fun
Encourage everyone to chant the current player's name as they go to put their nose on the pumpkin and cheer for them when it is placed. This keeps everyone involved, even when it is not their turn, and fosters a sense of good sportsmanship.

Reward each player with a single piece of candy, a paper hat, or other appropriate treat to congratulate them for making their attempt. This way, no matter who wins, everyone gets a little something.
Pin the nose on the Pumpkin is a delightful and wholesome game to share with friends and family! If you're looking for other fun Halloween activities, you can find more here. Or visit happytoddlerplaytime for even more fun.