Printable Penguin Outline Templates
These adorable penguin outline templates make a brilliant resource for those looking for fun crafting activities featuring penguins for Christmas or when learning about animals during Key Stage 1 or living things and their environment in Key Stage 2.
This flightless bird that poo's every 20 minutes and never farts can be used to teach children about the differences between birds and their habitats or even about the wider world when exploring other countries around the globe and their wildlife.
The free, downloadable and printable penguin outlines can be used for a plethora of craft and educational activities. The great news is that you can download and print as many as you like.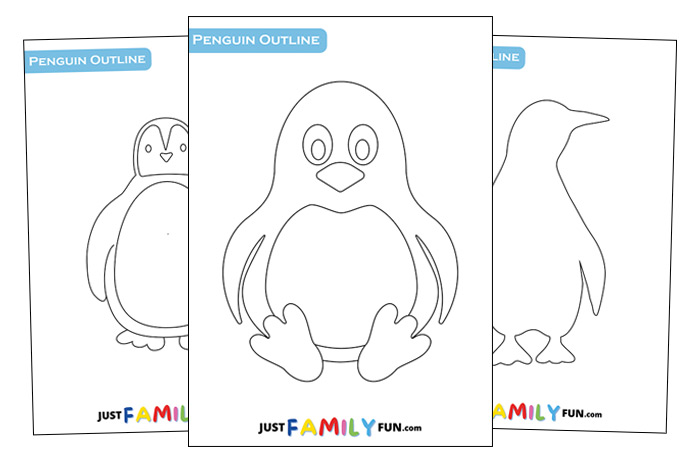 What's Included In Our Penguin Outline Templates
The designers here at Just Family Fun have created the cutest ever penguin outlines for you to use as a colouring page or for a variety of crafting or educational activities. The adorable black and white outlines feature a penguin
sitting down
standing up
walking away so you just see the back of them.
What Can Our Penguin Outline Templates Be Used For?
The three lovable penguin outlines can be used for a plethora of craft activities which can be standalone projects or used as part of educational activity. The outlines can be used as
Simple colouring pages that can be pinned to the wall
Stencils and templates to place delightful penguin prints on walls, tables, chairs or anywhere you fancy a penguin. They also make great stencils and templates to create wooden penguins from.
Cut out and used for a variety of art and craft projects
Waddling Penguin Craft For Kids
This adorable craft is fun to make and play with. Follow the steps below to make this fun craft.
First, print out one or more of the free penguins on white paper or cardstock
Colour the penguins in and cut them out. Add googly eyes if you fancy
Make a spring out of a pipe cleaner by wrapping it around a marker to make a spiral. Remove from the marker and stick to the back of a penguin cutout
Using a paper bowl tuned upside, make small holes and poke the pipe cleaner spring through so the penguin stands up
Glue cotton wool all over the plate underneath the penguin's feet
Give the bowls a shake and see the penguins wobble.
Sparkly Penguin Christmas Card
These precious Christmas cards will be received with joy by any doting grandmas, aunts or other relatives. Here's how.
Print, colour in and cut out the penguin outline
Grab a sheet of paper or card stock, fold it in half – then colour it in different shades of blue for the sea and sky. You could make some rocks or ice for extra decor at the bottom of the page for the penguin to stand on.
Stick the penguin onto the background
Add liquid glue and glitter to make the card sparkle
Open the card and write a lovely Christmas message.
When using the penguin outlines for fun activities it's a great time to teach your little ones some penguin facts (children learn best when having fun). Here are a few fun facts:
The penguin, or to give it its scientific name, Spheniscidae all live in the southern hemisphere except the Galápagos penguins that are found north of the equator on the Galapagos Islands
Penguins have special feathers – their colours allow them to blend in with their surroundings and they're waterproof
The penguin is an excellent swimmer reaching speeds of up to 15km per hour
They eat fish, crabs, shrimp and squid
They live in oceans and near the coast
Penguins have flippers instead of wings