Owls are fascinating creatures that have captured the imagination of people for centuries. It's no wonder that owl coloring pages have become such a popular activity for children and adults alike.
With their intricate patterns and details, these printable owl coloring pages will provide a relaxing and therapeutic experience to unwind and de-stress.
.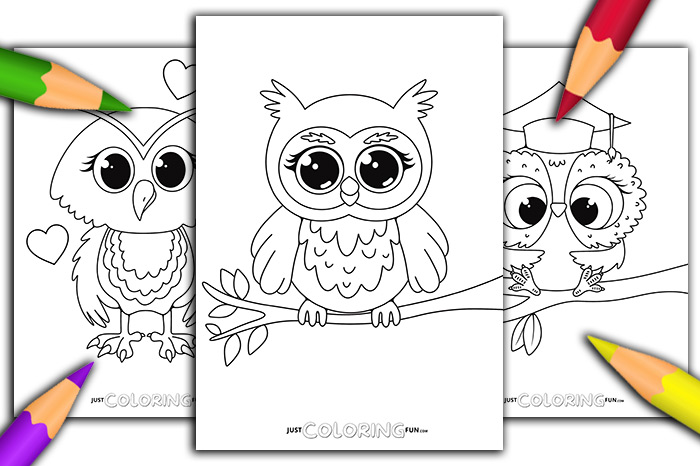 What's Included In Our Owl Coloring Pages
This set includes six different dragon designs. To begin having fun, all you must do is print the design on white A4 paper. Then, choose your favourite crayons or pencils and let your imagination run wild.
Ways to take this activity to the next level:
1. Experiment with different coloring tools: Instead of just using colored pencils or markers, try experimenting with different coloring tools like watercolor paints, pastels, or gel This can add a new dimension to the coloring process and make it more engaging.
2. Use different color schemes: Instead of always using traditional colors for your owl pages, try using different color schemes like monochromatic, analogous, or complementary colors. This can make the coloring process more challenging and stimulating.
3. Incorporate different textures: Consider adding different textures to your coloring pages by using techniques like shading, cross-hatching, or stippling. This can add depth and dimension to your coloring pages and make them more visually interesting.
4. Add background scenery: Instead of just coloring the owl itself, consider adding a background scenery to your coloring pages like a forest, sky, or night This can create a more immersive experience and make the coloring process more exciting.
5. Make it a group activity: Consider inviting friends or family members to join you in coloring owl pages This can create a fun and social atmosphere and make the activity more enjoyable for everyone.
6. Listen to music: Turn on some music while coloring owl pages to create a relaxing and enjoyable atmosphere. You can choose music that fits the mood of the owl page you are coloring, or just choose your favorite songs to enjoy while coloring.
7. Set a goal: Challenge yourself to complete a certain number of owl pages in a set amount of time. This can help you stay focused and motivated, and make the coloring process more
Coloring owl pages can be a fun and relaxing activity for people of all ages. Whether you're a beginner or an experienced colorist, there are many ways to make the coloring process more interesting and engaging.
If you're looking for some inspiration to get started with owl coloring pages, why not check out the designs posted on our website? Our collection includes a wide variety of owl pages, from intricate and detailed designs to simpler ones that are perfect for beginners.
For fun owl crafts checkout kidscraftroom.com
Happy coloring!