Mushroom Coloring Pages For Kids
Looking for a fun and creative way to keep your children entertained? Look no further than mushroom coloring pages!
These adorable pages are perfect for kids of all ages, offering endless hours of coloring fun. Not only are these pages entertaining, but they also offer a great opportunity for kids to develop their artistic skills.
Whether they're just learning how to hold a crayon or are already budding artists, mushroom coloring pages provide a safe and supportive environment for children to explore their creativity. So why wait?
Download some mushroom coloring pages today and watch your child's imagination soar!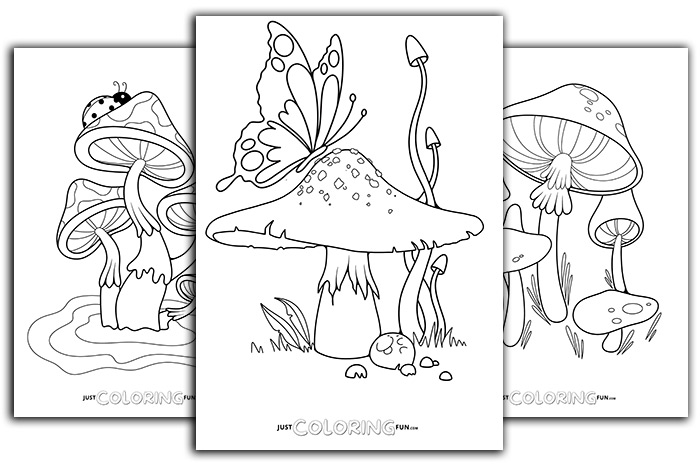 What's Included in Our Mushroom Coloring Pages
Our collection includes a 6 printable mushroom coloring pages that are perfect for kids of all ages. Whether your child loves bright and colorful mushrooms or more subdued earthy tones, we have a mushroom coloring picture that will suit their preferences.
4 Crafts You Can Use Mushroom Colouring Pages For:
Mushroom coloring pages are not only a fun activity for kids, but they can also be used for various crafts.
Mushroom Themed Story Book
One way to utilize these pages is by creating a mushroom-themed storybook. Print out several mushroom coloring pages and have your child color them in different ways. Cut out the mushrooms and glue them onto blank paper to create scenes. Then, encourage your child to come up with a story that involves the mushrooms. This is a great way to promote creativity and storytelling skills.
Mushroom Wall Decor or Mobile
Another craft that you can use mushroom coloring pages for is making a mobile or wall decoration. Print out several free mushroom coloring pages. Have your child color them in various colors and patterns, then cut them out and punch holes at the top of each one. String them together using yarn or string, and hang it up as a decoration in your child's room or play area.
Print out multiple copies of a mushroom coloring page and have your child color them in different colors. Cut out the mushroom shapes and attach them to a base, such as a planter or a piece of foam. Add other fairy garden decorations, such as fairy figurines, moss, or miniature accessories, to create a whimsical mushroom fairy garden.
Mushroom Tissue Paper Collage
Print out multiple copies of a mushroom coloring page and have your child color them in different colors. Cut out the mushroom shapes and use them as templates to trace onto tissue paper. Cut out the tissue paper mushrooms and arrange them on a piece of paper to create a mushroom tissue paper collage.
Mushroom Facts You Can Share With your Child
Mushrooms are a type of fungus and are not classified as plants or animals.
Some mushrooms are edible and are considered a delicacy in many cultures, while others are poisonous and can be deadly if ingested. Best teach them not to pick wild mushrooms…
The largest living organism in the world is a mushroom fungus that covers over 2,200 acres in the Malheur National Forest in Oregon.
Some species of mushrooms glow in the dark, a phenomenon known as bioluminescence.
The study of mushrooms is called mycology, and scientists estimate that there are over 100,000 species of mushrooms in the world, with only a small percentage of them having been identified and classified.
Mushroom colouring pages are a fantastic way to keep your little ones entertained and engaged for hours on end.  Using the colouring sheets for crafting is a super way to make colouring in a little more interesting if your child is a reluctant colourer. If you're looking for more great mushroom crafts why not take a look at Planning Playtime.