If you're looking for a fun activity to keep your little ones entertained, then look no further than monster coloring pages! These colorful and creative pages are perfect for kids who love monsters and enjoy expressing their artistic side.
Whether your child prefers cute and cuddly creatures or fearsome beasts with razor-sharp teeth, there's a monster coloring page out there that will capture their imagination and provide hours of entertainment.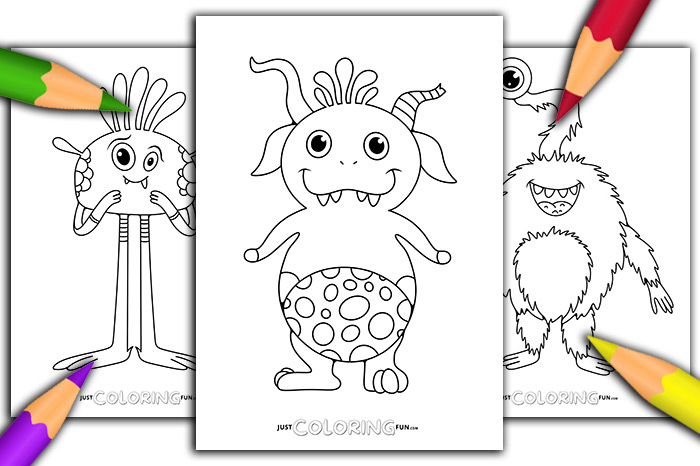 What's Included In Our Monster Coloring Pages
We've included six different monster coloring pages for your kids to enjoy. You and your child will be able to choose between
Aliens: These otherworldly creatures come in all shapes and sizes. Your child can get really creative when coloring them, imagining what type of planet they come from.
Cyclops: With one giant eye in the middle of their forehead, cyclops monsters make for an interesting coloring subject.
Monster with a floating eye: This unique monster has a large, round body with stubby legs and long, thin arms. Your child can get creative with coloring choices, making the monster as colorful or as sinister-looking as they like
Cute monsters: Not all monsters have to be scary – there are plenty of cute and cuddly monsters out there, ready for your child to color with bright and cheerful colors.
Fun Monster Activities to Try:
Once your child has finished coloring their monster coloring pages, they can use them for a variety of crafts, such as:
Create Monster Masks: Cut out the colored monster and attach it to a popsicle stick, then have your child hold it up to their face for their own DIY monster mask.
Make Monster Magnets: Cut out the monster coloring page and attach it to a magnet to create a fun and colorful decoration for the fridge.
Monster Mobiles: Cut out a few different monsters and attach them to string, then hang them up for a personalized monster-themed mobile.
Monster Bookmarks: Cut out the monsters and attach them to a ribbon, creating a fun and unique bookmark.
Monster Puppets: Cut out and attach the monsters to popsicle sticks or straws, then have your child put on a puppet show with their new hand-made creatures.
There are many creative ways to use the monster coloring pages once they have been colored in, so encourage your child to let their imagination run wild and have fun experimenting with different crafts!
Monster coloring pages are a great way to let your child's imagination run wild while also improving their fine motor skills and artistic abilities. With a huge variety of different monsters to choose from, there's sure to be a coloring page perfect for your child's individual tastes and interests. So why not grab some crayons and get started on a fun and creative monster coloring adventure today? Your little monsters will thank you for it!
If you enjoyed the monster coloring page, then you'll love the monster crafts featured on this Play Ideas. From creating your own unique paper roll monsters to no-mess paint monsters, the variety of crafts available is sure to bring out your kids inner artist.