Meow! Our adorable kitten coloring pages are purrr-fect for families that want all the fun of pets without the hassle – forget about vacuuming fur off of the furniture! Kids of any age can spend hours on end cleanly crafting, coloring, and using their creativity with our black-and-white cartoon templates.
Whether your children call them cats, kittens, or kitty cats, these cute coloring pages are ideal for burning creative energy and improving their crucial fine motor skills!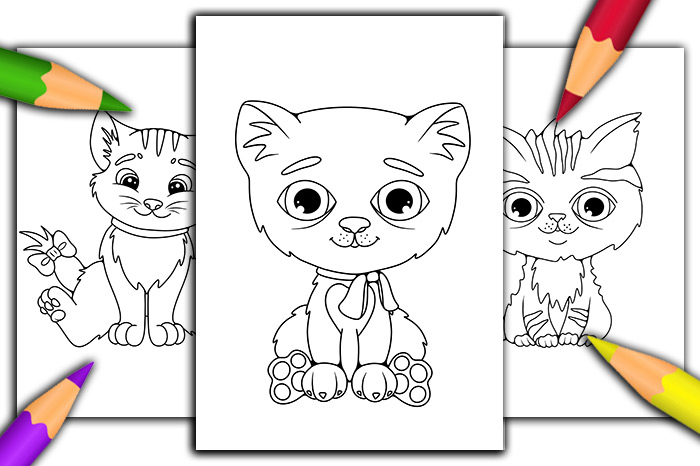 What's Included In Our Kitten Coloring Pages
This printable set includes six black-and-white kittens of different breeds and styles to color in and decorate. All you have to do to enjoy is choose your favorite kitten design, download the page, and print it out for free!
We recommend printing on A4 paper to get the most from your coloring pages.
Fun Kitten Activities to Try:
Learn some fun facts about kittens, such as…
A small town in Alaska had a cat for mayor for over twenty years! He was called Mayor Stubbs, named for his short and stubby tail.In 1963, a kitten was sent to space! The French space program's "out of this world" experiment supported our understanding of how humans would survive away from Earth.

Cats' noses produce distinct, unique prints the way human fingertips do. You could identify a cat based on the marks it leaves around your house!

The brittle hairs on the surface of cat tongues, called spines, are made of keratin! This biological material is also found in human fingernails.

A group of cats is called a clowder.

Sir Isaac Newton invented the first cat door! His beloved cat's name was Spithead.

Are you an expert or novice on all-things cats? Learn more from sites like National Geographic Kids and Britannica Kids!

Name your kittens!
Any pets living under your roof with you deserve a name! Do you have a grumpy, serious cat or a playful and energetic kitten? Use your creativity to match each companion with the perfect name.
Coloring Competition
This activity is perfect for birthday parties, class events, and other gatherings with multiple children. Provide the same coloring page to each kid and give them a dedicated time, such as five, ten, or fifteen minutes to color their kitten. Once the timer ends, run a voting session to determine the best artist. To avoid an even tally, create a rule that you cannot vote for your own artwork. Offer prizes for the best artists, such as candy, to encourage careful work.
Use different artistic mediums and tools
If your little ones have mastered crayons and colored pencils, let them try decorating their kitten coloring sheets with other artistic mediums. Safely using glitter, sequins, recycled paper scraps, and snippets of string can improve your childrens' hand-eye coordination and practice matching colors, patterns, and designs!
Various takes on realism
Find an image of your favorite breed of cat online. Try to recreate the cat's colors, fur patterns, and markings on your kitten coloring pages so it looks as realistic as possible. Next, decorate another kitten coloring page as if you would find it in a fantasy movie! Give it pink fur, glitter eyes, rainbow feathers, or anything you can think of. Which cat would you prefer to have as a pet?
Make personalized "thank you" notecards
If your little one isn't sure what to do with their masterpieces, create greeting cards from them! Cut around the kitten shape and paste it on a fresh piece of cardstock or thick paper. On the back of the new paper, write a letter to a friend, a birthday card for a family member, or a thank you note to a teacher! This is a great exercise in communication and personalizing things for people you care about.
With Just Coloring Fun, you'll never run out of exciting coloring pages. Check out our other free, printable coloring sets including puppies for pet lovers, unicorns, and dinosaurs. You can also visit Just Family Fun or Parents.com for even more family-friendly activities and projects like collaborative games and educational science experiments!
If you're extra proud of your finished kitten coloring page, send Just Coloring Fun a photo to share your experience!