Outdoor And Indoor Scavenger Hunts For Kids Pdf
Scavenger hunts are a fantastic way to have fun with your children while teaching them about the world around them.
Whether you're exploring the garden or the local park, these hunts provide an opportunity for outdoor learning and quality time together.
However, when the weather doesn't permit outdoor adventures, we have an alternative solution. Introducing our beautiful new outdoor and indoor scavenger hunts for kids pdf.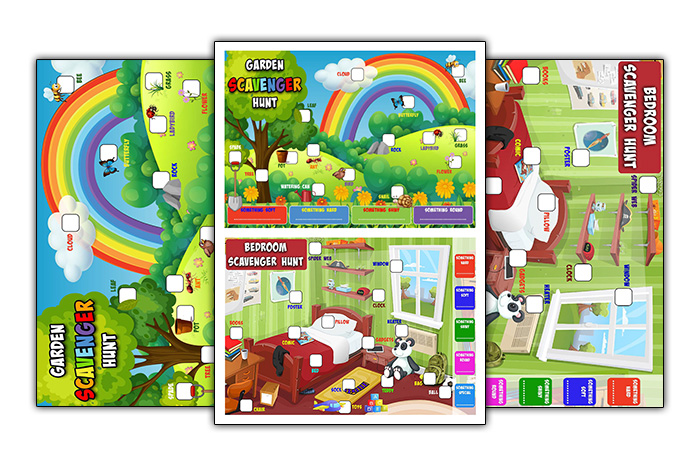 Whats Included In Our Indoor And Outdoor Scavenger Hunts
Our printable scavenger hunts come in two lovely designs: a garden scavenger hunt and a bedroom scavenger hunt. Each design features at least 10 objects, allowing for vocabulary expansion and discussions about the items found in a garden or bedroom. The hunts include simple category labels to guide your child. For example, in the garden design, your child can search for "Something hard!" and explore the objects to identify the one that fits the description. In the bedroom design, they can look for "Something special!" and have a conversation about their favorite toys or what they consider special.
Indoor Scavenger Hunt Printable pdf
Our indoor scavenger hunt printable pdf is specifically designed to engage children while they explore their own personal space. With colorful images and accompanying words, this scavenger hunt is an exciting and educational activity that encourages children to discover various items in their bedroom. Here are some of the items they can search for:
Poster
Books
Clock
Pillow
Heater
Bag
Gadgets
Teddy
Comic
Spider Web
Ball
Toys 
and many more..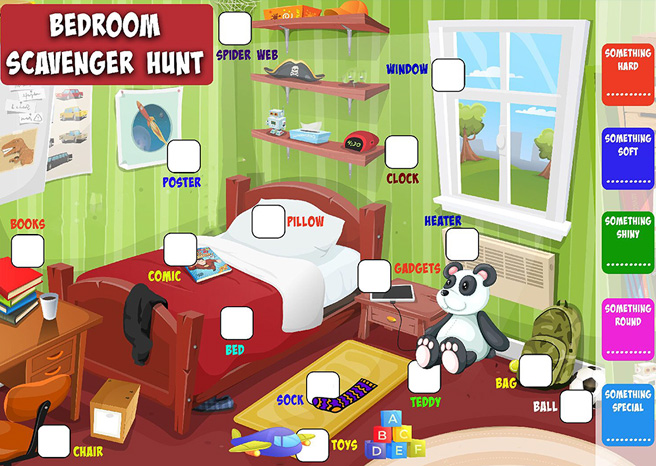 Outdoor Scavenger Hunt pdf
Our outdoor scavenger hunt pdf printable is a fantastic activity that allows children to explore the wonders of nature right in their own backyard or local park. This colorful and interactive scavenger hunt is designed to make outdoor learning fun and engaging. With vibrant images and accompanying words, children can embark on an adventure to find various items in the garden. Here are some of the items they can search for:
Spade
Pot
Flower
Snail
Tree
Grass
Leaf
Ant
Butterfly
Bee
Cloud
Rock
and many more..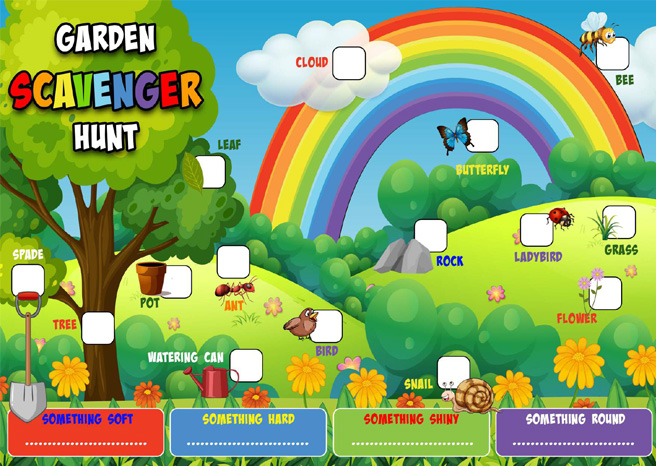 Both designs are vibrant and captivating, with object names written next to their delightful pictures. You can even combine the scavenger hunts with real-world activities. If you have a garden, take your kids outside to find a real watering can. Likewise, utilize the bedroom scavenger hunt to search for "Something round" and engage your child physically and mentally.
Our scavenger hunts are designed for effortless use. Each category has space below it for writing the name of an object, and there's a tick-box beside each item for marking when it's found. You can print multiple copies of the scavenger hunts or laminate a few and use a board pen to reuse them, providing endless fun for your children.
As parents take on the challenging role of being primary school teachers, resources like these scavenger hunts can make home learning easier and more enjoyable. Here are some ideas for different age categories:
For toddlers learning to talk, the simple words, colors, and pictures on the scavenger hunts help them repeat basic sounds and learn new words.
If your child cannot read or write yet, encourage them to point to objects based on descriptions or elements in the illustrations to enhance their vocabulary.
Children learning to read can practice sounding out simple words on the scavenger hunts, improving their reading skills and confidence.
For those learning to write, assist them in filling in the categories with correct words and encourage proper spelling and pronunciation.
Use the scavenger hunts to help children with math by counting the objects without losing track.
Challenge slightly older children by timing them to see how quickly they can find something for each category.
Utilize the scavenger hunts as support for more complex activities, such as discussions about insects, biology lessons, or even drawing exercises.
These scavenger hunts offer endless possibilities for fun and learning. The engaging designs will capture children's attention, while the various activities cater to parents' needs. Download our templates for free and embark on a journey of educational enjoyment while ensuring everyone stays safe.
More Fun Printable Scavenger Hunts
If you had a great time with our outdoor and indoor scavenger hunts, you'll love exploring our other exciting options! Discover our nature scavenger hunt, as well as thrilling Easter and Halloween hunts, and many more adventures. For a unique twist, why not visit homeschoolshare.com and try their intriguing listening scavenger hunt? Step into a world of endless possibilities and keep the fun going!
Outdoor And Indoor Scavenger Hunts For Kids Pdf