Printable Free Halloween Coloring Pages
The leaves are falling and the air has a spooky chill. It is time to celebrate All Hallows Eve! Need some inspiration? Try our free printable Halloween coloring pages. These are great fun for everyone. Adults and children alike will appreciate these cute seasonal coloring pages.
Are you likely to hope on your broom and fly across the harvest moon this Halloween? Our witch-themed Halloween printable pictures will suit your tastes. No matter your preferred spell, we have a witch or warlock for you.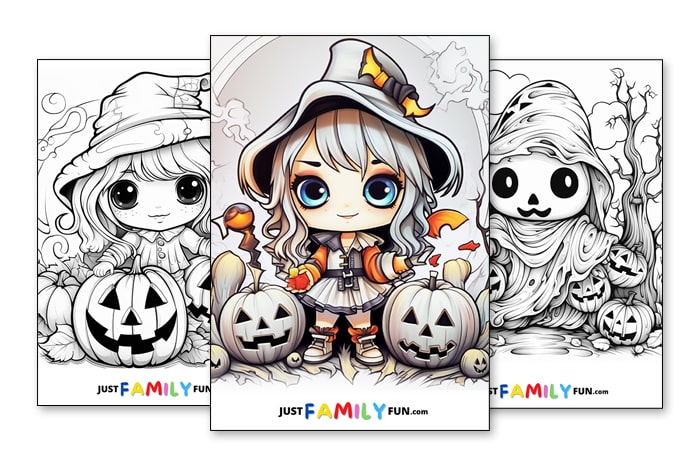 Do you prefer the less lively characters of Halloween? We have creepy zombie coloring pages that are sure to satisfy those who adore the living dead. We have dolls with a dark side despite their sweet dispositions. We even have a scarecrow family that might scare more than just the birds.
No matter what your character preference may be, we have spooky Halloween coloring pages for you. Our free Halloween coloring sheets are sure to add a little fright to your next coloring experience. Below, you will find some creepy ideas for how to use your free printable Halloween coloring pages to elevate your Halloween celebrations to a spookier level!
What's Included in Our Halloween Printable Pictures
When you download the free printable Halloween coloring pages, you will get 21 spooky characters of various dispositions, designs, and levels of fright. Create a Halloween masterpiece to impress your fellow frighteners!
Each Halloween printable pictures provides a detailed, full-page coloring experience. The characters have different backgrounds, accessories, and friends that make each page unique and fun. Even the most particular artists will find something that interests them. You and your little monsters will not regret downloading these free Halloween coloring sheets.
Fun Halloween Coloring Ideas
Need a few spook-tacular ideas to make your Halloween even better?
Color several of the spooky Halloween coloring pages and make a haunted wall! These Halloween printable pictures are detailed enough to be used as creepy decorations to make your next guest have a spine-tingling good time. If you have small children, you could have play some Halloween tunes and let them pretend they are at a haunted party!
Have a Halloween coloring sheet contest with your family! Give each family member their own creepy coloring page and see who can create the best illustration. You can create patterns in the background for a zany and colorful look, or you can stick to a simple background if you prefer a traditional Halloween look. You can even use dark, mystical colors for an elegant twist that will leave your family spellbound.
Search for the hidden characters! Have everyone color a Halloween printable picture (or two!). Then, take turns hiding the characters (make sure to give them frightening names) around the house or in the backyard for a bewitching time. For a hair-raising twist on this game, let the only light be a flickering candle while you hunt for the characters…or even just the light from your best jack-o-lantern to light the way. Elevate your event by offering spooky prizes or candy for the winner.
Use the free Halloween coloring sheets as inspiration for some spooky poetry! Have your family color a character and then write a poem to go along with it! Give your witch personality by writing about her favorite spell. Describe how the scarecrow feels to be stuck on a post all day. Does the zombie have feelings? The possibilities are truly endless with these cute Halloween characters.
Check Out Our Free Pumpkin Stencils
Need a little help carving your own scary pumpkin? Click here to download our printable pumpkin stencils. These will help even the most novice carvers create a jack-o-lantern worthy of any front stoop. Look below for examples of the spooky templates we have to offer.
Don't let the spooky season pass you by without trying our free printable Halloween coloring pages! We have something for everyone, and the whole family is sure to have a fun and frightening time with our Halloween printable pictures. Let your crayons, colored pencils, or markers cast a spell this season and download our free Halloween coloring coloring sheets.
If you need more ideas for fun Halloween activities when you see the leaves fall and the air chill, try this website: www.happyplaytimetoddler.com. This website is full of ideas to make Halloween magical for young and old alike.