Free circular protractor printable Template
Are your kids doing their Maths homework and they need some help with angles? Are you looking for a circular protractor printable template to help them to measure angles and solve the homework questions? Your search is over; here at Just Family Fun, we have designed the perfect resource for you.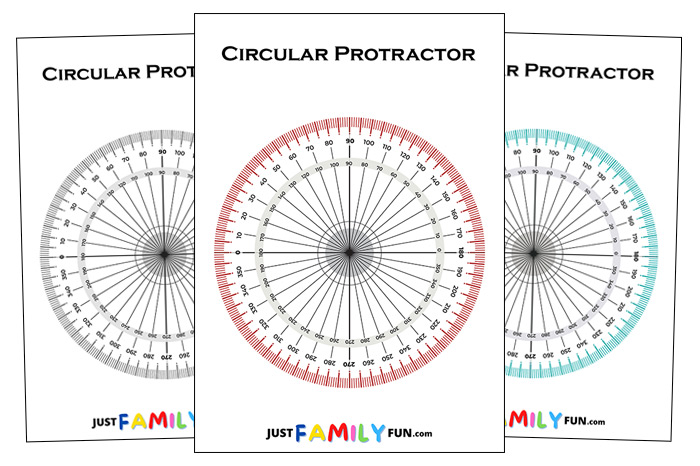 What is Included in the Circular Protractor Printable Template
We have created three different circular protractors for you to choose from. Each is a circular protractor displaying one 360-degree scale running clockwise and another running anti-clockwise. Each one is also to scale for your convenience. The first template is outlined in a classic grey, the second is outlined with a bright blue and the third is outlined in a lovely red. A splash of colour can certainly brighten up homework on a rainy day.
How to Use a Circular Protractor
A protractor is a simple measuring device used to draw and measure angles in degrees. It is remarkably simple to use, and many children really enjoy using a protractor.
The first step is to select which our circular protractor templates you want to use. The protractors are to scale so you can print it straight off with no fuss and you're good to go!
Once you have your template printed, you place the middle of the protractor on to the vertex and ensure one of the rays is lined up with zero on the 360-degree scale. You then use the scale to measure the distance to the other ray and take the reading.
If your kids would prefer a visual demonstration, there's lots of videos online that you can use to demonstrate how to measure an angle with a protractor, such as this one from Khan Academy.
Don't forget that there are also plenty of other resources online that your children can refer to when learning. We have a whole host of free printable worksheets ready for you to download and use.
We'd also always recommend BBC Bitesize; as the name suggests, it delivers educational info in manageable, bite-size chunks!
Learning Maths is vital for all children; it paves the way for further education and is useful throughout their whole lives. Using our circular protractor printable template will ensure that learning is enjoyable and will also ensure that completing homework on angles is a piece of cake!
If you have used any of our resources to help your family to play and learn, please do share your stories and pictures with us on Facebook, Twitter, or Pinterest. We love to see our free printable resources bring educational fun to your family!