April showers bring May flowers!
Just Coloring Fun's adorable floral coloring pages are perfect for kids of all ages tired of waiting for winter to be over. No matter the month or season, you can decorate your house like it's summer time all the time!
If your children love the energy of happy, sunny afternoons and colorful, blooming gardens, these free printable pages can brighten up the day for the entire family.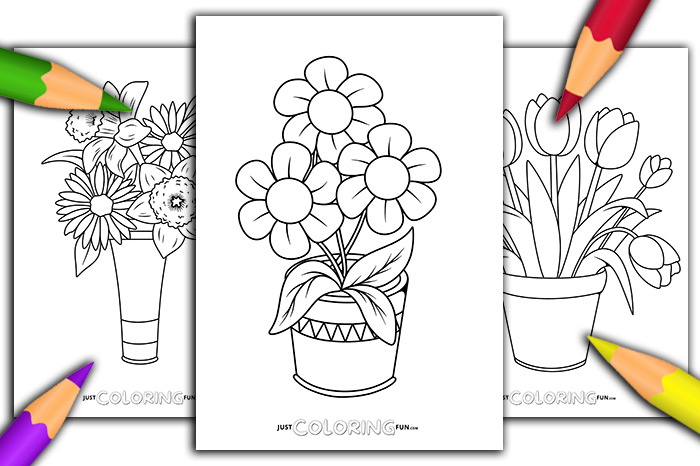 What's Included In Our Floral Coloring Pages
This set includes six different black-and-white cartoon flower coloring sheets. Whether you like roses in a big, round vase or daisies in a slim, skinny pot, you can download and print your favorite design with ease.
We recommend printing your favorite coloring sheet – or all of them! – on white A4 paper to get the most out of your coloring.
Fun Floral Activities to Try:
Our floral coloring sheets are better for more than a little coloring time. If your little ones have mastered the art of crayons and colored pencils, try out these other activities to continue having fun all day long.
Use different artistic mediums and tools
Safely using felt shapes, sequins, snippets of paper, strips of tulle, and string can improve your childrens' hand-eye coordination, fine motor skills, and independent creativity all at the same time! Add these materials to give your flower designs texture and depth.
Create a garden on your wall or refrigerator
Once you've colored in your pots of flowers, cut them out and paste them on your bedroom wall or kitchen fridge with Blu Tack! The more flowers you color and create, the larger your indoor garden will grow. An added bonus is that you won't even need to water these flowers everyday!
Make tissue-paper flowers
To add a bit more flare to your floral coloring pages, try making paper flowers and gluing them onto your otherwise completed coloring page! All you need to do is rip small pieces of colorful tissue paper, fold them in half, and glue them together in alternating directions.

Tip: use liquid glue or Mod Podge and let the paper flowers dry on a flat surface before hanging them up.

Laminate the floral coloring pages and use whiteboard markers
If you plan to reuse your coloring sheets, laminate them! This will make the pages sturdier and less prone to rips and stains. You can color over the plastic cover or laminate with whiteboard and dry erase markers, wipe it clean, and color it in all over again! This is a great way to share the same activity between siblings and other groups of multiple children.
Post photos of your paper garden on social media
Besides being luxurious examples of natural beauty, flowers are a critical element of maintaining our world's health! Posting a photo of your faux-flowers can spread awareness and encourage friends and family to decorate their home the same way instead of picking real wildflowers. Try brainstorming how else can you help save the environment for the post's caption!
Learn a few fun facts about flowers!
There are over 300,000 species of flower living on our Earth! You know most of them by their common names, such as roses, tulips, gardenias, and daisies, but a few scientific names include Phalaenopsis, Agapanthus, and Achillea ptarmica.
Flowers and other plants with green leaves photosynthesize. This means they turn sunlight, carbon dioxide gas, and water into food for energy!
Particular species of flower are carnivorous, meaning they receive all the energy and nutrients they need by eating small bugs.
Some flowers experience nyctinasty. This is the process of the petals closing up at night to protect the flower from dew and wetness caused by cooler temperatures. The flowers "rebloom" and open their petals every single morning!
There is no shortage of exciting and realistic floral coloring pages at Just Family Fun. Rainy days will never feel sad and dreary with these flower pots decorating your home! Check out our other coloring sets, such as kittens, elephants, and superheroes. You can also visit Just Family Fun or Jump Start for even more family-friendly activities, science experiments, short projects, and fun games!
If you're extra proud of your finished coloring pages or paper flower bouquets, send Just Family Fun the snapshot you plan to share on social media! We'd love to see your work.