Flame Templates For Kids: Colouring And Crafts
Are you looking for a fun and easy way to keep your kids entertained and creative? Why not try some flame-themed colouring and crafts? Perfect for topics about camping, bonfire night, fire/firemen or even the great fire of London. There are endless possibilities for how you can use these flame templates which are free to download and print.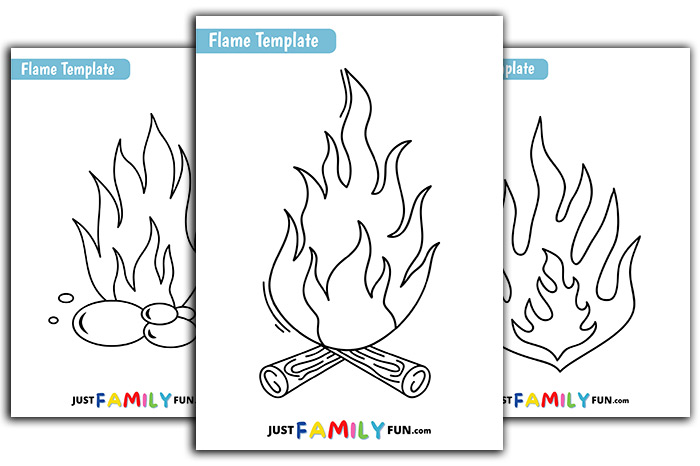 What's Included In Our Flame Templates
We've created several flame templates that you can download and print for your kids to colour, cut out and use for their crafts.
What You Can Use These Flame Templates For
These templates are perfect for making flame-themed bookmarks, writing templates or invitations to a fire-themed party. You could even use it to make personalised greeting cards for friends.
How To Use Our Flame Templates
To get started, simply download and print the free flame template pdf using the link below. You can choose from different designs, depending on your kids' preferences. Then, let your kids unleash their imagination and decorate the flames using their favourite colours and materials. Encourage them to experiment with different colouring techniques, such as blending, shading or adding glitter or stickers to make their flames stand out.
Flame Templates Craft Ideas
Once the flames are decorated, they can be cut out using scissors or a craft knife and used for a range of crafts. Here are some craft ideas that incorporate a flame or fire template that are suitable for kids:
3D Fire
Help your kids glue multiple flames together to create a 3D shape. You can also help them attach the flames to other craft materials, such as cardstock, felt or wood, to create unique and personalized arts and crafts.
Finger painting
Provide kids with a flame or fire template and some washable finger paint. Have them dip their fingers into the paint and then press them all around the flame or fire template to create vibrant and colourful artwork.
Glue and tissue paper
Have kids cut out pieces of red, orange, and yellow tissue paper into small squares. Then, provide them with a flame template, a sheet of paper or cardboard, and some glue. Have them glue the tissue paper onto the sheet of paper, following the outline of the template.
Salt painting
Using the template pre-draw a flame or fire template onto a black sheet of paper. Mix together some table salt and watercolour paint, and then have the kids use a pipette or brush to apply the colourful salt mixture all over the black paper. This creates a beautiful, bright effect when the watercolour is absorbed into the salt.
Cupcake liner craft
Provide kids with a flame template and some colourful cupcake liners. Have them cut out the flame using a cupcake liner that has been flattened out. Then, have the children use other pieces of cupcake liners to cut out flames of different colours and sizes. They can then glue these flame shapes onto the flat flame or fire template, creating a unique and textured design.
Glitter stickers
Print out a flame template onto some heavy paper, and then use a hole punch to make "confetti" from various colours of glitter paper. Have kids gently press the hole-punched glitter pieces onto the template, creating a vibrant and glittery flame or fire design.
In conclusion, our flame templates are a versatile and fun tool that kids can use to create a wide variety of artwork and crafts. Whether they prefer finger painting, tissue paper mosaics, or glitter stickers, there is a craft idea that will spark their creativity and imagination. With bright colours and bold shapes, flame templates are perfect for creating vibrant, eye-catching designs that kids will love to show off to their friends and family. So why not gather some basic crafting supplies and let your children's creativity soar? With a flame template as their inspiration, the possibilities are endless!