Editable Username and Password Trackers PDF
Have you ever been in a scenario where you cannot, for the life of you, remember a password that you desperately need? Our password tracker can solve this predicament!
Our useful printable password log can solve all your memory problems! Goodbye are the days of trying to remember security questions and the fifteen different password combinations you use across all different programs and websites.
With this password template, you can rest assured that you won't lose them ever again. Even better, you can keep them organized! Instead of artfully placing sticky notes on your desk and computer screen, you can keep them all safe in a central location.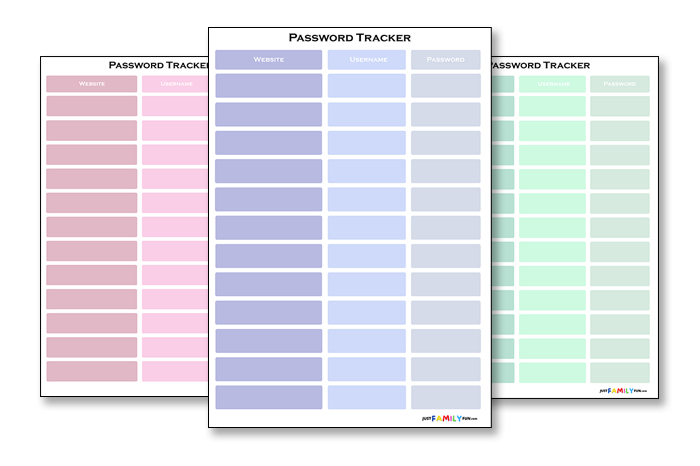 What's Included In Our Editable Password Trackers PDF
When you download our password tracker, you will receive an editable template in three different colors!
Choose the color that best suits your tastes. Then, either print it and write in your usernames and passwords OR use a PDF reader to edit the tracker online.
If you print your password tracker, please make sure to keep it in a safe and secure location…not sitting next to your computer in plain sight! See our tips below on how to keep your passwords safe. If you use the PDF reader to edit the password template, save it on your computer so that you can access it at any time.
Our editable password tracker can make your life easier, so download it today.
How To Keep Your Passwords Safe
According to some statistics, "123456" is the most commonly used password in the world. Seriously people? I guess if it seems too easy, maybe people think it is a safe bet. It is most certainly not. However, when some people have upwards of 200 passwords to remember, it is no wonder that they often choose passwords that are simple. Just remember that doing this puts you, your workplace, and your family at risk. After downloading our printable password log, make sure to read these tips to keep your passwords safe from hackers.
Tip 1- Don't reuse the same password over and over and over again. Also, don't think that simply adding an exclamation mark at the end of your old password is sufficient. You need to use unique passwords for all of your accounts. This seems daunting, but our password tracker can help simplify it.
Tip 2- Use passwords that are difficult to guess and not significant to you. Yes, that means DO NOT use your pet names, kid names, birthdays, favorite teams, etc. Those are easy to guess, especially if someone has access to your social media. Instead, use completely random passwords that have no obvious significance to you as far as others know.
Tip 3- Most passwords already require it, but make sure you use a combination of letters (uppercase and lowercase), numbers, and special characters in your passwords. Switch up the order to create unique combinations.
Tip 4- If you have your passwords on our printable password sheet, make sure to store it in a locked location. If someone breaks into your home and sees your passwords posted on your refrigerator, it is a safe bet that your bank account will be wiped before you can call for help. A safe that only you and your family members have access to is the best place to keep your password tracker.
Tip 5- If you use the PDF reader to edit the password template, save it on your computer under an obscure file name. That means do not title the file "passwords". Instead, consider using something that seems dull. Tell your family what the name of the file is, but don't save it to your desktop. You want hackers or other ill-intentioned individuals to skim right over the file because they assume it is nothing important.
If you use these tips and our password tracker, you are providing yourself, your workplace, and your family with an extra layer of security in a time in which breaches are becoming more and more common. Don't let yourself become a victim of a cybersecurity threat.
In conclusion, our password tracker can be a great tool to help you stay organized and safe from the notoriously difficult security questions. However, make sure you use common sense when storing your passwords with our printable password log!
For more information on how to keep your computer files organized, check out this helpful website: https://zapier.com/blog/organize-files-folders/. Here you can find information about naming files, creating folders, and other useful bits of information.
If you are looking for more useful things for parents, check out other resources we have available for you at Just Family Fun: https://justfamilyfun.com/category/parents-resources/. From chore charts to Santa and tooth fairy certificates, we have so much to offer.