Printable Dinosaur Coloring Pages for Kids
Rawwrrr! These dinosaur coloring pages are saur great for creative kids! Whether you have a future paleontologist or someone who thinks they're a T-Rex running around your home, our dinosaur coloring page pintables are the best cure for boredom out there.
They can be used to burn off extra energy, inspire a passion for history and science, express your thoughts and feelings, and even develop important multisensory and cognitive skills. So go grab your crayons and get coloring!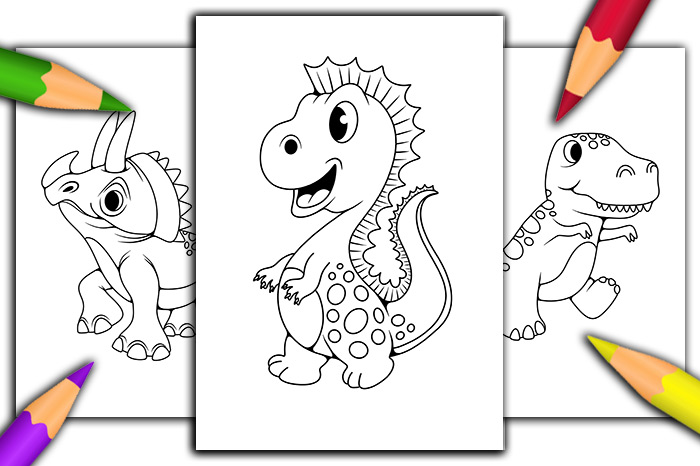 What's Included In Our Dinosaur Coloring Pages
This set includes six different black-and-white dinosaur templates. You can trace, color, design, or decorate your favorite dinosaur all you want! Just download and print your favorite coloring page for free to start having fun.
We recommend printing on A4 paper to get the most from your dinosaur templates.
Coloring in the lines isn't the only way to have fun with your free pages. Take your shot at these other engaging activities alongside our dino coloring printables!
Learn how to spell dinosaurs' scientific names
Learning doesn't have to be plain and boring. Support your little one's literacy by encouraging them to sound out and find common letters in scientific dinosaur names. Can they spell these?

Stegosaurus
Brachiosaurus
Diplodocus
Aardonyx
Utahraptor

Learn all about dinosaurs
Another way to spark a love for science is with dinosaurs, some of the largest, oldest, and scariest animals to ever walk this planet. Dinosaurs were reptiles that lived on land around 245 million years ago. Nearly 700 species of dino existed, but not all at the same time. The total "dinosaur period", called the Mesozoic Era, is split into three sections: Triassic, Jurassic, and Cretaceous periods. All the dinosaurs went extinct around 66 million years ago, but their genes were passed down in other animals that are still around today!
Decorate gift bags
If your walls are already flooded with past coloring pages and artworks, try using your completed dinosaur coloring pages for other decorations! Carefully cut around the dinosaur's outline and paste it on a plain or paper bag to use for gifts… or for yourself! This can help your children develop an honest sense of compassion through personalization and gift giving.

Tip: if you plan to reuse the bag, paint over the dinosaur with Mod Podge to reduce the risk of spills and tears.

Make a dinosaur dinner
What do you imagine your dinosaur ate for dinner? They're not zombies, they didn't eat brains! Most dinosaurs ate just like we do. Herbivores ate plants, carnivores ate meat, and omnivores ate both!

Get in the kitchen with your family and plan a dinosaur dinner. We recommend salads, chicken, and other tasty veggie and meat dishes.

Make dinosaur stencils
You can use your printable dinosaur coloring pages for more than meets the eye! Once you're done decorating your dinosaur template, laminate it and cut around the edges. Now, you can use it like a stencil and trace your dinosaur shape onto other pieces of paper to have all the same fun over and over again!

Tip: use a nail file to sand down rough edges of the laminate.

Make your own dinosaur crayons
Don't get rid of your stubby, worn down, and broken crayons! Recycle them to save money and make your coloring even more magical.

Collect all of the green, brown, gray, and sand-colored crayons you can find at the bottom of the box and set them in small silicone baking or cupcake moulds. Safely heat the crayons in the oven at 120*C for up to 20 minutes. The crayons will melt together and, once removed from the oven, harden into one multi-colored crayon! Pop them out of their moulds and begin coloring with your brand new dinosaur-themed crayons.
Don't let the fun stop at the end of your dinosaur coloring! Check out our other free, printable coloring sets including puppies or kittens for pet lovers and Unicorns. You can also visit Just Family Fun or Fun Family Crafts for even more family-friendly activities and projects like treasure hunts and dot-to-dot puzzles!
If you're extra proud of your finished dinosaur coloring page, send us a snapshot of your work at Just Family Fun to share your experience!Unicorn