So, the dentist is the day after swimming, swimming is on the day you normally go to the park and the weekend is four sleeps away. It's time to end this completely confusing calendar system and teach your child the days of the week! Download our Free Days of the Week Chart, Activities and Colouring Pages HERE for a fun and interactive way to teach them in no time. Keep reading to find out what the pack includes and some great ideas to make teaching it fun and effective.
What's Included?
Days of the Week Chart – Page 1
Begin learning with our bright and colourful days of the week chart.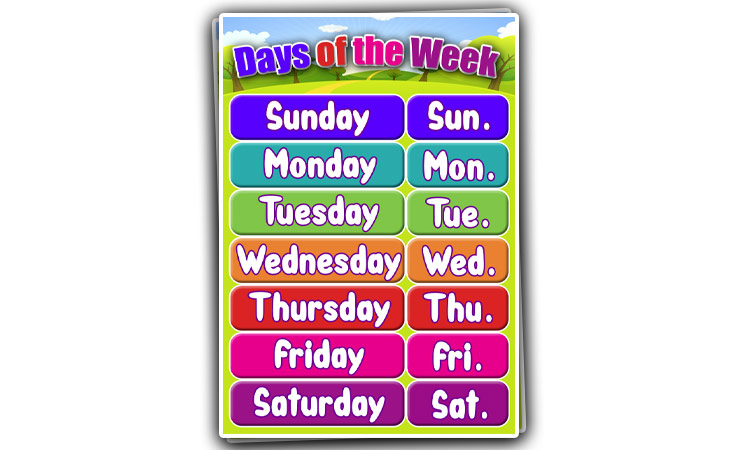 Start by asking your child if they know any of the day names already and then read them aloud together.
Talk about anything they normally do on each day. This will help them start to differentiate the days in their mind.
Come up with a catchy tune to sing the days to. Choose something your little one knows by heart like a nursery rhyme or theme tune from a favourite programme. This Addams Family Theme days of the week song clicked with my girl.
When your little one is happy with the names, it's time to move on to the next activity. However, this chart is great to come back to for checking answers.  Think about displaying it on a wall so it's there when they need it and for you to point to when they ask you when their friend is coming or what day the party is.
Days of the Week Cut and Paste – Pages 2 and 3
Now that they know the names, it's time to get them in the right order.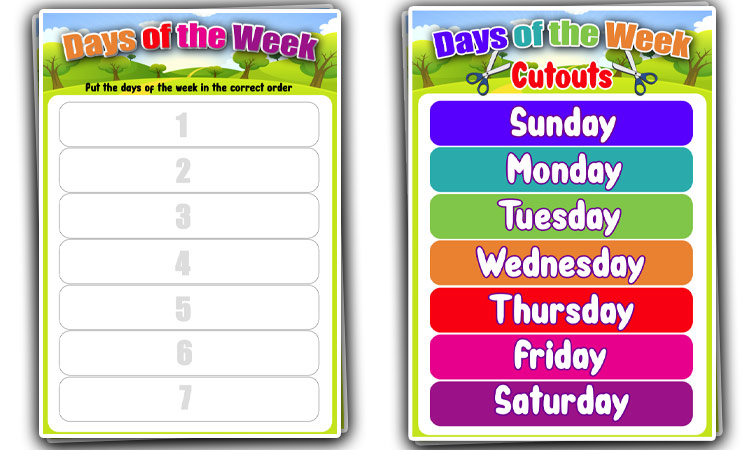 Cut out the day names on page 3. This is a great chance for your little one to develop their fine motor skills and practice using scissors.
Look at the Days of the Week Chart – Page 1 together and then cover it up.
Let your child arrange the weekday names in the spaces on page 2.
Check Days of the Week Chart – Page 1 together. Did they get them all right?
Make any corrections needed and glue them down. Another great skill for little hands to practice.
Cutting out the names is great for when kids are just starting to learn something. It means they can move things around and experiment. It also provides a chance to try out their answers and make mistakes that are simple to fix. Sometimes using a pen or pencil can be a bit nerve-wracking as they don't want to get it wrong and ruin the sheet.
Days of the Week Clock – Pages 4 and 5
A fantastic, interactive activity to practice using today is, yesterday was, tomorrow will be.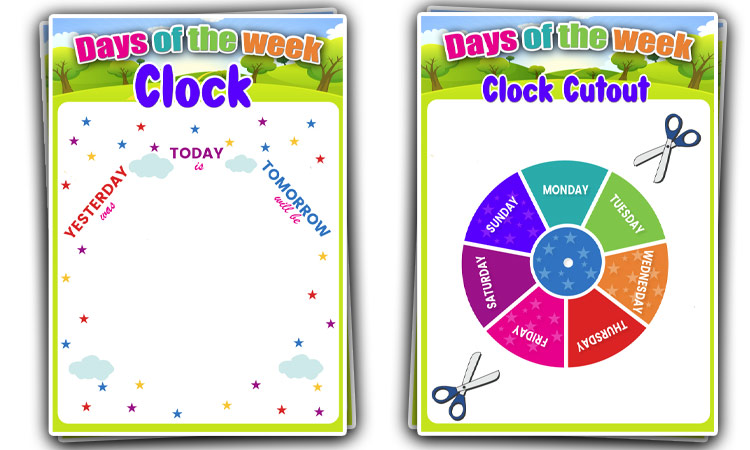 How to Use
Cut out the Days of the Week clock from page 5.
Use a split pin to attach it to page 4. If you can't find a split pin, any wire like a pipe cleaner, paper clip or bread tie will work. Thread a bead halfway along before you push it through to make it extra secure.
Turn the wheel to see how the day under yesterday, today and tomorrow changes.
This is a great resource for kids to use to help them visualise how the days follow each other. Ask them questions like;
If today is Thursday, what day was yesterday?
If tomorrow is Sunday, what day is it today?
If Yesterday was Tuesday, what day will it be tomorrow?
Let them guess the answer and then turn the wheel to find out if they were right!
Yesterday and Tomorrow Cutouts – Pages 6 and 7
Once they have had lots of practice with their clocks they should be able to tackle our today, tomorrow, yesterday worksheet.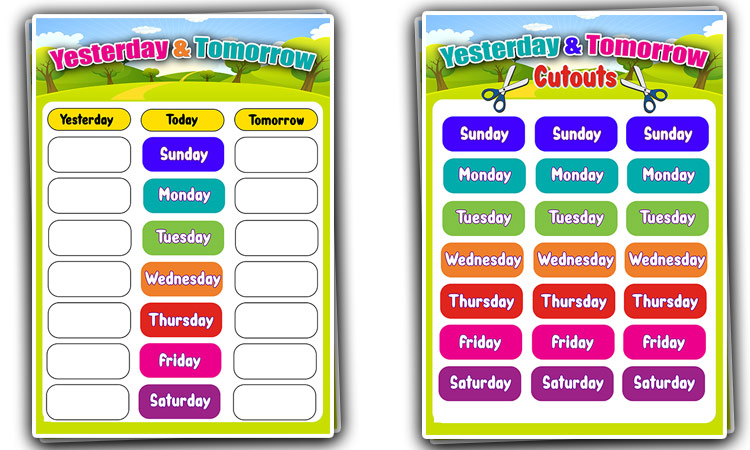 How to Use
Cut out the days of the week names from page 7. Let them practice with their scissors, but there are lots here so you may wish to help out.
Let them put the day names into the spaces on page 6.
Check the answers together using the Days of the Week Clock – Page 4.
When all the answers are in the right place, stick them down.
Celebrate as they have created their own today is, yesterday was, tomorrow will be chart!
Proudly display their colourful day of the week chart.
Days of the Week Tracing – Page 8
By now, your little one should be feeling confident with the order of the days of the week. Let's build on this confidence to fit in some writing practice and learn how to spell them too!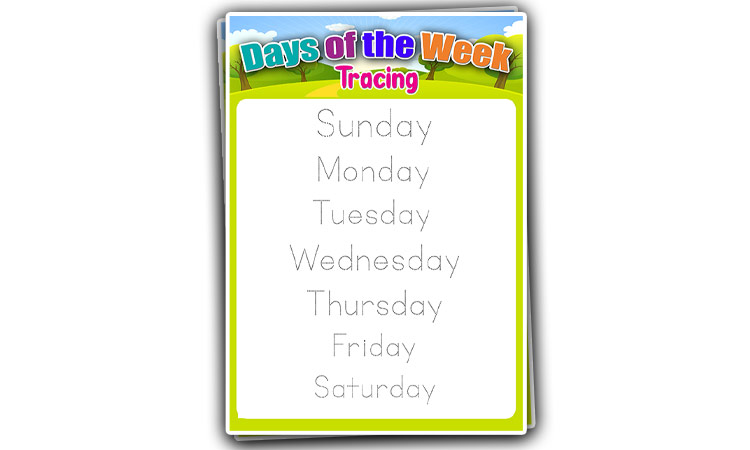 Read the words aloud together and talk about the letters you can see.
Notice how they all start with a capital letter.
Is there something that's the same at the end of each word?
Listen to the letters at the start of each word. The S's of Saturday and Sunday sound the same, but the T's for Tuesday and Thursday don't. This is because the H gives Thursday a 'th' sound.
Can they hear the 'ur' in Thursday and Saturday? Can they spot the letters that are making that sound?
Then, in pen, pencil or felt tip, let your child trace over each word. They may want to use a different colour for each word to brighten up their work.
Top Tip – Some children like to practice writing without a pen at first. Spread a thin layer of flour in a tray or wet paint on a sheet of tin foil and write with a finger. This will help them to learn the shapes of the letters without having to worry about learning to control a pen at the same time!
Days of the Week Writing and Spelling Sheets – Pages 9 to 15
Repetition is the key to learning success, and writing each name once is just not enough. So, we have created a whole sheet of activities for each day of the week.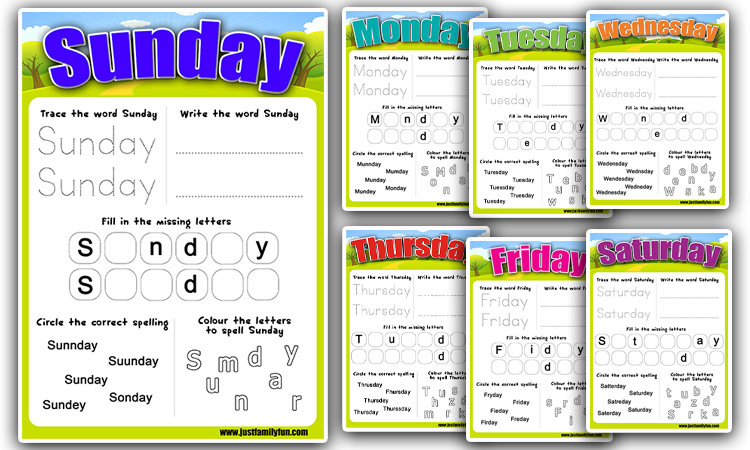 Top Tip – Really keen learners might wish to race through these in one go. However, it might be worth slowing them down and doing one sheet a day. This will mean they spend a whole week recalling their days of the week, and it's more likely to stick.
Activities on Each Sheet Include;
Trace the Word – Practice both pencil control and spelling by tracing the name of each word.
Write the Word – By now they have traced each word three times. Can they write it by themselves? Use a pencil at first, mistakes are no big deal.
Fill in the missing letters – Cover the top half of the sheet and see if they can fill in the gaps to spell the day's name.
Circle the correct spelling – Keep the top covered, can they spot the name which is spelt correctly?
Colour the letters – A fun colouring task, but not as simple as it looks! They should only colour the letters that are in the name of the day. We have hidden a few extras in there, so don't be fooled!
Wordsearch – Page 16
Celebrate their wonderful new days of the week vocabulary by finding each day in the wordsearch! This will reinforce their spelling and develop their word recognition.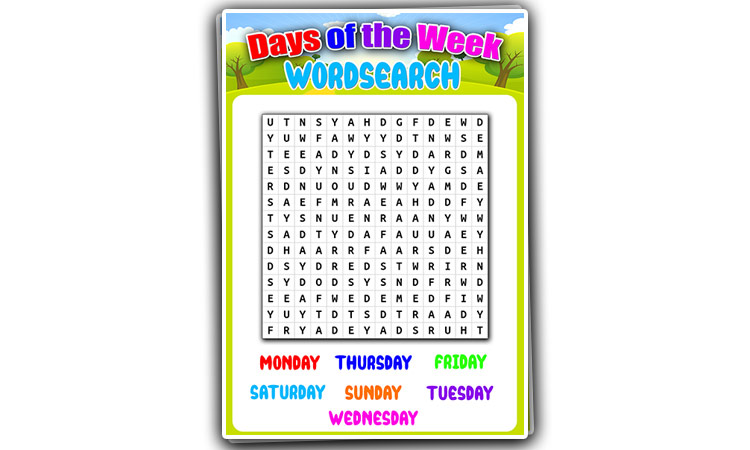 Top Tip – Print two wordsearches and have a race to see who can find them fastest. Your little one will love a bit of competition with you!
Days of the Week Coloring Pages – Pages 17 to 23
Finish our Days of the Week activity pack with some fun colouring pages as a reward. We have an exciting illustration for each day along with the key spelling.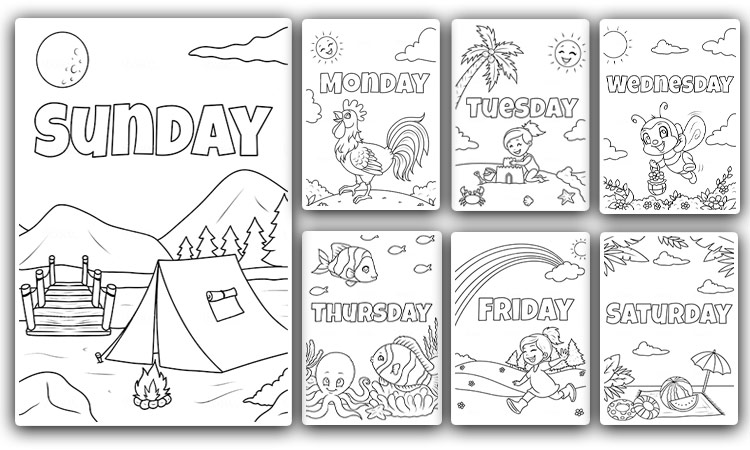 Why not display their beautiful artwork by creating a days of the week board?
How it works
Print our days of the week colouring pages and colour them in.
Hang their completed days of the week pictures, in the correct order, of course. Leave a space around or below each one.
Print pictures and words to represent things they do on different days. If you have photos of them at the different activities, this would be even better!
Use your days of the week board for some interactive fun with your little one. Here are some ideas;
Which Day? Game – Add blutack to the back of each picture and ask them to stick them next to the right day. Can they remember which day they go to Grandma's?
What are we doing this week? – At the start of each week, work together to add the pictures to the days of the week board under or around the correct day. Some may be attached permanently, like school or nursery. Others may move around, like the park or play dates.
Download our Days of the Week Chart, Activities and Colouring Pages HERE
Did your child find learning fun with our Days of the Week worksheets?
Don't stop now! Explore the weather with our Free Printable Weather Chart pdf Worksheets. Or, blast off into space with our Free Phases of the Moon Printable Worksheets.
By
Laura Davies