Cupcakes are a sweet treat that almost everyone loves. Whether it's for a birthday party, other special occasion, or even just a fun snack after school, cupcakes can be a delicious indulgence. But what if you could enjoy cupcakes without any of their dreaded calories?
Our cupcake coloring pages are both free to print and free of guilt! Ideal for sweet lovers of any age, our black and white cupcake templates are perfect for coloring, decorating, and crafting without the snacking. Get ready to have some fun!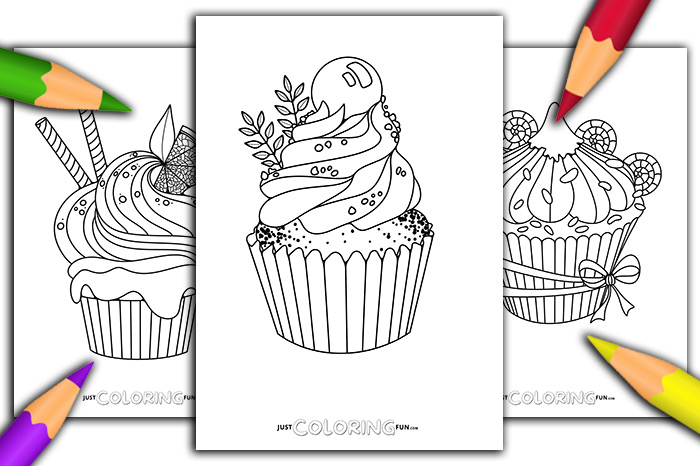 What's Included In Our Cupcake Coloring Pages
This set includes six different cupcake templates. You can choose from images with sprinkles, frosting, fruits, and even more! Whether you prefer a classic vanilla or something more adventurous like Oreo, we have just the cupcake for you.
Fun Cupcake Activities to Try:
Coloring is a relaxing and meditative activity that can inspire creativity and help calm down children after a long, busy day. But these pages are for more than just coloring! We recommend you try these activities to get the most use out of your favorite cupcake designs.
Create a cupcake recipe
Have you ever dreamed of creating your own cupcake recipe? With our coloring pages, you can imagine the baking that goes into making such a dessert and write your own recipe. For example, choose the type of cake, frosting, and toppings you want and how you plan on baking it!
Host a cupcake decorating party
This is the perfect group project for birthdays, slumber parties, and even indoor recesses at school. Invite a group of friends to choose their favorite cupcake template, print it out, and spend time coloring together! Make sure you provide pencils, markers, and crayons. To make it a competition, compare cupcakes at the end and decide whose looks the most delicious!
Make a cupcake book
After you've decorated all of our cupcake coloring pages, collect them in a stack and staple the edges together. This way, you can look back on your brilliant art and continue to dream of how yummy your cupcake might be.
Play a memory game
Memory is a fun game for one or multiple players that takes only minutes to set up! Print out two copies of each cupcake coloring sheet. Decorate each of the pairs exactly the same, using as similar colors and patterns as you can for each one. Finally, mix up the cupcakes and lay them face-down on the table. Take turns picking up two cupcakes, turning them over, and trying to find a match. The player who has found and picked up the most matches when the cupcakes run out wins!
Make a puzzle

Although it may be hard to say goodbye to your beautiful and scrumptious cupcake coloring page, you'll have a fun and reusable cupcake puzzle in the end!
Safely cut your completed cupcake coloring sheet into ten to fifteen random pieces. Ensure each piece is big enough to recognize. Mix the pieces up and put it all back together! You'll have to recreate your original cupcake coloring page as if it were a jigsaw puzzle. This game encourages children to use context, such as colors and shapes, to consolidate information.

Make cup coasters


If your little ones tend to leave drink rings on all the tables at home, help them make their own cup coasters! All you need to do is print your cupcake coloring pages on A6 paper and color them, decorate them, and design them all you want. Lastly, laminate the coloring sheet and trim the edges to ensure your coaster is your desired size.

Place your coasters around the house to act as a barrier between drink cups and furniture. If they get wet, the plastic laminate will keep the cupcake coloring safe. Just wipe your coasters off and reuse them!
No matter your favorite colors, favorite designs, or even favorite cupcake flavors, Just Coloring Fun's free, printable coloring pages are the best way to improve hand-eye coordination, fine motor skills, creativity, and reduce stress. Spend time coloring with your kids or have a go at your favorite cupcake-related activities that we recommend to see the full benefits!
Next time you're ready to color and craft, explore our website to find even more designs like mermaids, puppies, and superheroes.