Reading is an important part of a child's development. It is a vital skill that is necessary throughout all stages of life. Here at JustFamilyFun we aim to make it as fun as possible with these Free Kids Printable Bookmarks To Colour In.
With the kids going back to school now is the perfect time to print these out and let your children go wild with their imaginations. There is no wrong or right way to colour them in, and there are so many designs that you could join in yourself with this fun and engaging activity. As a parent, I also know how relaxing colouring-in can be for my kids, and it is the best way for my children to wind down after a busy and often stressful day learning at school.
Not only will your kids be using their creative minds to colour in these printable bookmarks and building on their motor control and pencil holding skills, but they will also be making a useful tool that they will treasure and use with every book they read. And when it becomes too worn to use you can treasure it as a precious keepsake of your child's first few reading years.
There is plenty to keep their minds occupied, they could even make a bookmark based on what they are currently reading, making their book all the more engaging. These free printable bookmarks are a good way to get your child away from computers and video games for a little bit and can inspire them to be as artistic as they can be, colouring in the fun scenes however they wish. It is fun to see what they come up with and to see them take pride in their creations.
There are a range of designs to choose from, including boyish, girlish, and gender-neutral designs, and they are all ready to be coloured in however your child wants!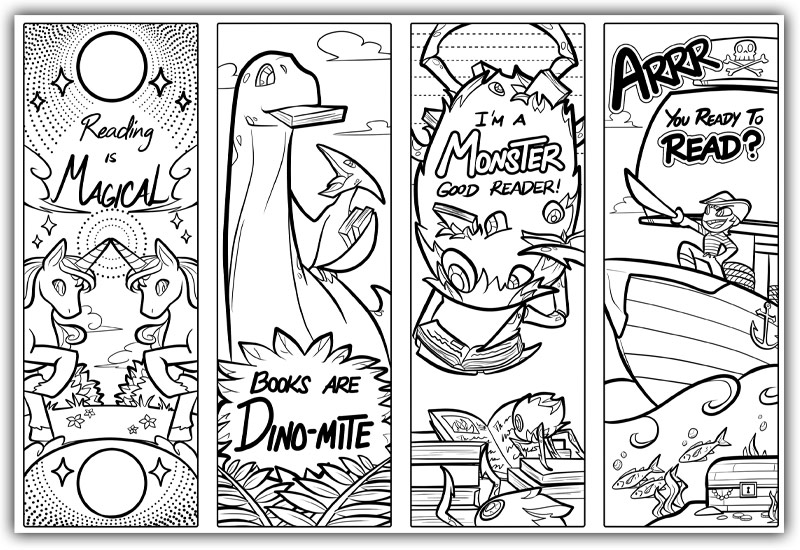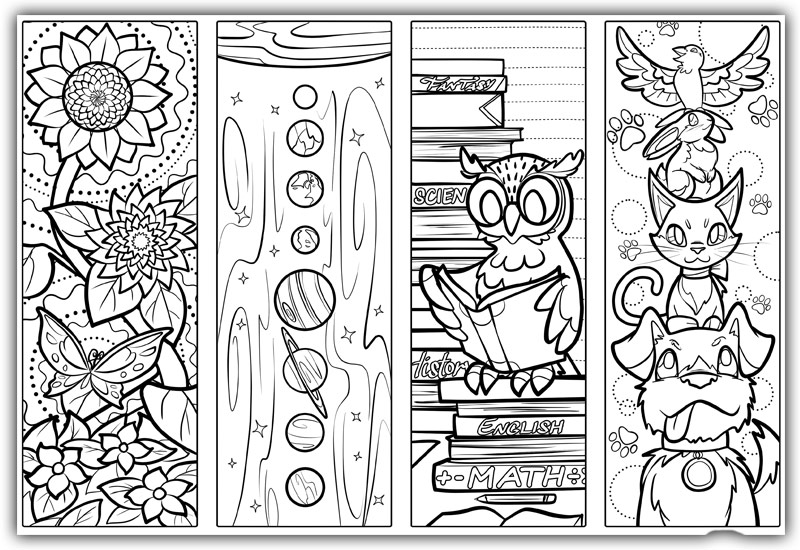 Unicorn Bookmark
Who didn't want a unicorn friend as a child? Well now your child can have not one, but TWO cute unicorns on their bookmark! Not only are they ultra-cute, but they are ready to be coloured in whatever colour your child would like. These unicorns are ready to go on whatever adventure your kid is reading about, reminding them of the magic of reading as they do!
DOWNLOAD UNICORN BOOKMARK HERE
Dinosaur Bookmark
Don't be afraid of these awesome Dinos! They are here to help you read! No one is certain about how dinosaurs looked exactly, so this is the perfect chance for your kid to use their imagination and go wild with their ideas! Were they green? Or blue? Maybe even rainbow coloured! It's up to your child to decide! One thing is for sure, once completed the dinosaurs make fun companions to take on reading adventures. They really are Dino-Mite!
DOWNLOAD DINOSAUR BOOKMARK HERE
Monster Bookmark
AAAH! A MONSTER! But it's okay, he is here to read with you, not scare you! He is a very friendly monster. This monster friend is the perfect companion for your child to take on their reading adventures, and he is sure to keep them safe from any villain your child encounters while reading. He really will help your child become a monster good reader!
DOWNLOAD MONSTER BOOKMARK HERE
Pirate Bookmark
ARRR you ready to read? Get ready to sail the seven seas and go on adventures with this pirate bookmark! Does your child love swashbuckling pirates? Then this is the perfect bookmark for them. Your child can colour him however you want, they can even choose the colour of the pirate ships' sails! Once coloured in your child will have a trusty pirate friend to take with them on their reading explorations.
DOWNLOAD PIRATE BOOKMARK HERE
Floral Bookmark
Does your child love to get lost in patterns? Then they will love this floral bookmark design! There are so many patterns to get lost in, it will keep their creative minds engaged for hours as they colour in the flowers. There is even a butterfly flying through the scene! This beautiful bookmark will make a fine companion for young artist as they read.
DOWNLOAD FLORAL BOOKMARK HERE
Solar System Bookmark
Space. The final frontier. And a very fun bookmark to colour in! The sun, Mercury, Venus, Earth, Mars, Jupiter, Saturn, Uranus and Neptune, wait to be coloured in! Your child can replicate our solar system, or they can make a solar system of their own. This is the perfect bookmark for any young budding astronaut or lover of space and is sure to encourage them to imagine different worlds as they read.
DOWNLOAD SOLAR BOOKMARK HERE
Bookworm Bookmark
This bookmark is perfect for the little bookworm! There is nothing like reading and learning new facts, and this bookmark celebrates this. A friendly owl is here to join your child as they read, and they can learn together! Your child's reading will flourish with such a good influence joining them on their reading journeys. They will become wise together indeed!
DOWNLOAD BOOKWORM BOOKMARK HERE
Pets Bookmark
Is your child begging you for a pet? Have no fear, this bookmark will satisfy their pet needs for now! Your child will have so much fun colouring in the dog, cat, rabbit and bird! They can create the pets of their dreams and take them with them everywhere. Not only are they very cute but they make the purrrrfect companions to go on reading adventures with!
DOWNLOAD PET BOOKMARK HERE
We know you and your kids will love our bookmark designs! We advise printing onto card or sticking the bookmarks onto another piece of paper to make them thicker, and we also advise adult supervision when cutting the bookmarks out. If you are looking for a little more flair you can also cut a little hole into the top of the bookmark and thread some string through to give it an extra fancy look.
If you loved these bookmarks, then you will also love our other free printable designs! We have Free Printable Superhero Masks, Free English Alphabet Flashcards, Free Printable Birthday Cards and many more free activities and crafts on JustFamilyFun.
Bookmarks graphics designed by Katherine Louise Thomas