As children start growing, you find that they start imitating their parents and start having an awareness of what body parts they have. They start getting curious about their bodies and its functions. From the first knee scrape or the first cut, kids begin pointing out the parts of their bodies that hurt without knowing what to call it. This "Learn Your Body Parts Activity" Worksheet can help children recognize and identify the different parts of their bodies.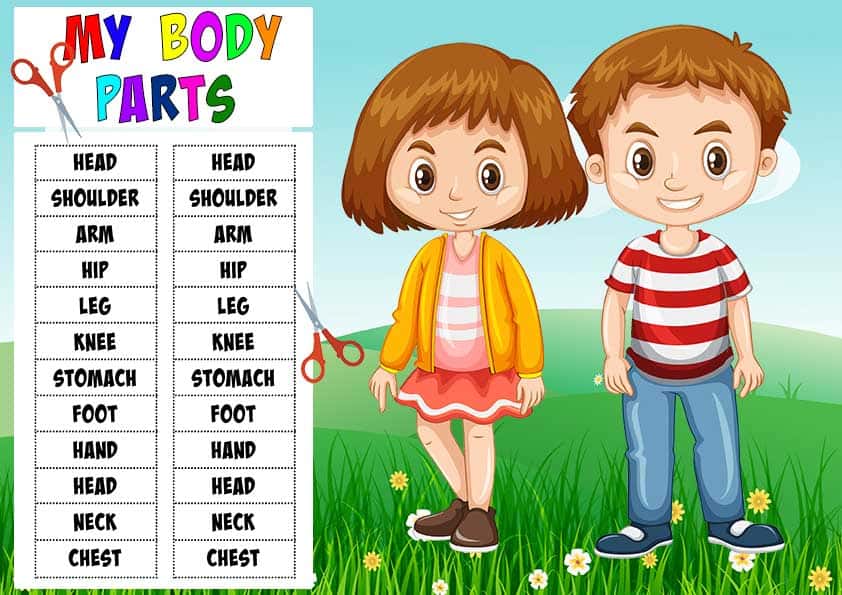 Why should we teach kids about their bodies?
Understanding what the body parts are called will help kids with communication skills and to describe what's wrong with their bodies.
It is important that they learn the functions of their various body parts and how it feels to be healthy and what it feels like when something is wrong.
You can also teach them to love their bodies and appreciate all its parts and how it works together. This will help them have a positive attitude to their bodies.
How do you teach kids about their bodies?
There are many ways to do this, children can be taught through songs like Head Shoulders, Knees and Toes (which can be limited because it only mentions a few body parts), stories, games, and fun activities. One of such activities is using a visual aid to show them the different body parts.
When it comes to learning, visual aids like charts, flash cards etc. can be a very powerful tool. Children learn quicker when they can see what they are learning about. Our Body Parts printable chart is a fun and interactive way for little ones to learn about their bodies.
The printable can be used in various ways, the body parts can be written directly in the white boxes or little squares with the body parts can be cut up and the kids asked to match them to the right body part. You could also call out the body parts and let the children point it out themselves. This activity can be really good for homeschool, preschool and as a fun toddler activity.
The activity can also include encouraging them to point out the various parts of their own bodies. The activity can also lead to various other fun learning process like identifying body parts that aren't on the chart.
There are boy and girl versions of the printable each with 11 body parts labels. It contains head, shoulder, arm, hip, leg, knee, stomach, foot, hand, head, neck, chest.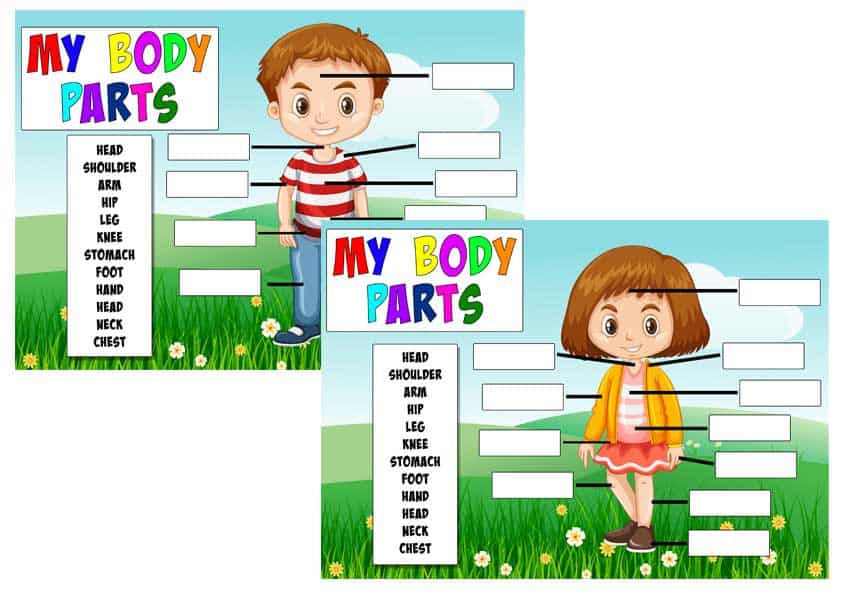 The supplies needed to make this activity happen:
Printer
Scissors
Laminater (optional)
Print out the chart on a sheet of paper. You can choose to laminate the paper for durability and to prevent the kids from crinkling the paper or allow the kids to write out their answers directly on the sheet. Cut out each of the body part labels into smaller pieces. This free printable is available for free downloadable from the link below. Have plenty of fun with the printable below and check out other fun printable worksheets and charts here.