100 Free Printable Rebus Puzzles
Hello everyone! We're super excited to share the newest addition to Just Family Fun— a set of 100 brand-new rebus puzzles, complete with answers.
After the fantastic response to our last collection, we couldn't help but create another batch of 100 challenging puzzles. Get ready for hours of family fun, laughter, and brain-teasing excitement!
What's Included In Our New Collection Of Printable Rebus Puzzles
There are eight pages included in this printable PDF, and each page contains 12 rebus puzzles all with a common saying or phrase to decipher – enough rebuses to keep old and young entertained for hours.
When trying to solve our rebus puzzles featuring common phrases, remember to pay attention to the placement, size, shape and even colour of the pictures and words in each rebus puzzle. And remember, these puzzles are often not what they seem!  How many of them can the kids solve?
Some of the rebus puzzles are trickier than others, so younger children might need a helping hand from someone older in the family. And if everyone at home is stuck on any of the puzzles, we've included the answers too.
How To Download Our Rebus Puzzles With Answers
To grab our rebus puzzles, just click the blue download button beneath the puzzle you want. This opens a PDF file for easy printing or downloading to your computer.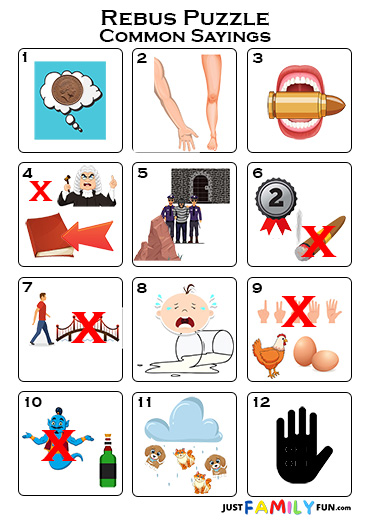 Rebus Puzzle Answers
1. A penny for your thoughts
2. An arm and a leg
3. Bite the bullet
4. Can't judge a book by its cover
5. Caught between a rock and a hard place
6. Close but no cigar
7. Cross that bridge when you come to it
8. Don't cry over spilled milk
9. Don't count your chickens before they hatch
10. You can't put the genie back in the bottle
11. It's raining cats and dogs
12. Get out of hand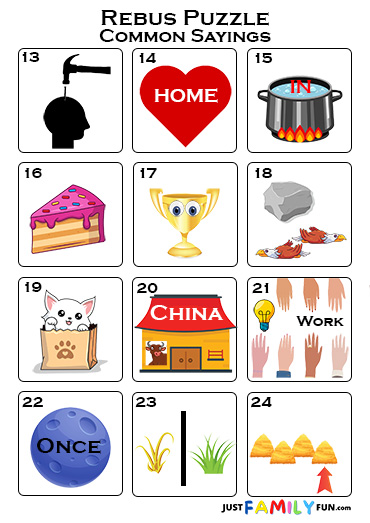 Rebus Puzzle Answers
13. Hit the nail on the head
14. Home is where the heart is
15. In hot water
16. It's a piece of cake
17. Keep your eyes on the prize
18. Kill two birds with one stone
19. Let the cat out of the bag
20. Like a bull in a china shop
21. Many hands make light work
22. Once in a blue moon
23. The grass is always greener on the other side
24. The last straw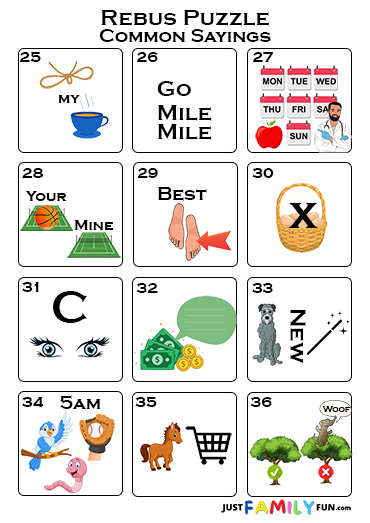 Rebus Puzzle Answers
25. Not my cup of tea
26. Go the extra mile
27. An apple a day keeps the doctor away
28. The ball is in your court
29. Put your best foot forward
30. Don't put all your eggs in one basket
31. See eye to eye
32. Money talks
33. You can't teach an old dog new tricks
34. The early bird catches the worm
35. Put the cart before the horse
36. Barking up the wrong tree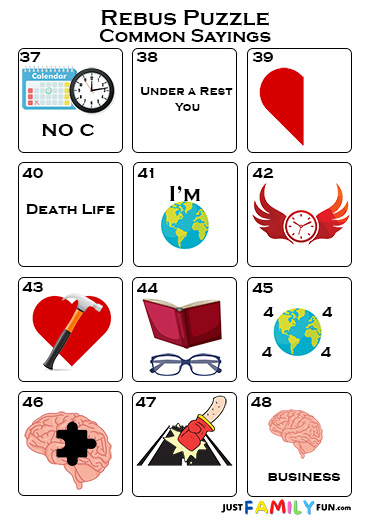 Rebus Puzzle Answers
37. Long time no see
38. You're under arrest
39. Half-hearted
40. Life after death
41. I'm on top of the world
42. Time flies
43. Heartbreaker
44. Reading glasses
45. Four corners of the Earth
46. Piece of mind
47. Hit the road
48. Mind your own business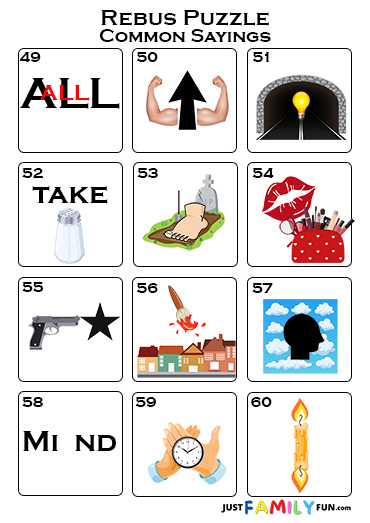 Rebus Puzzle Answers
49. All in all
50, Up in arms
51. Light at the end of the tunnel
52. Take it with a grain of salt
53. One foot in the grave
54. Kiss and make up
55. Shooting star
56. Paint the town red
57. Head in the clouds
58. Mind the gap
59. Time on my hands
60. Burning the candle at both ends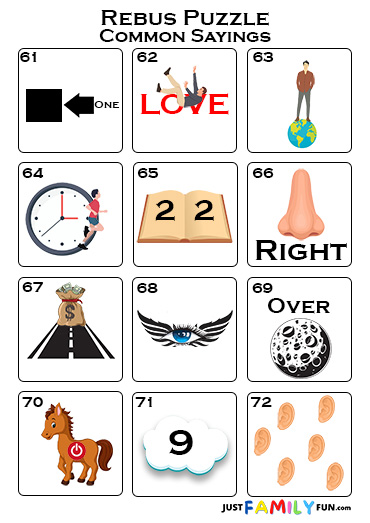 Rebus Puzzle Answers
61. Back to square one
62. Falling in love
63. The world at your feet
64. Running out of time
65. Two sides to every story
66. Right under your nose
67. Highway robbery
68. Bird's eye view
69. Over the moon
70. Horsepower
71. On cloud nine
72. All ears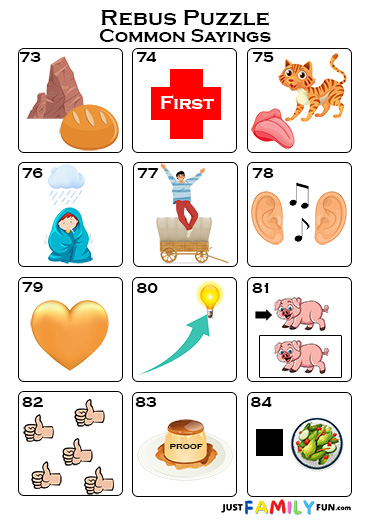 Rebus Puzzle Answers
73. Rock and roll
74. First aid
75. Cat got your tongue?
76. Feeling under the weather
77. Jump on the bandwagon
78. Music to my ears
79. Heart of gold
80. Rise and shine
81. Pig out
82. All thumbs
83. The proof is in the pudding
84. Square meal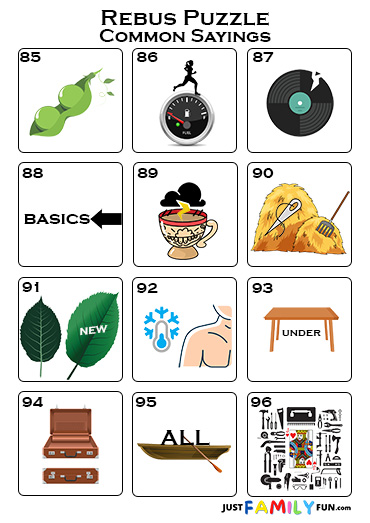 Rebus Puzzle Answers
85. Two peas in a pod
86. Running on empty
87. Broken record
88. Back to the basics
89. A storm in a teacup
90. Needle in a haystack
91. Turning over a new leaf
92. Cold shoulder
93. Under the table
94. An open and shut case
95. All in the same boat
96. Jack of all trades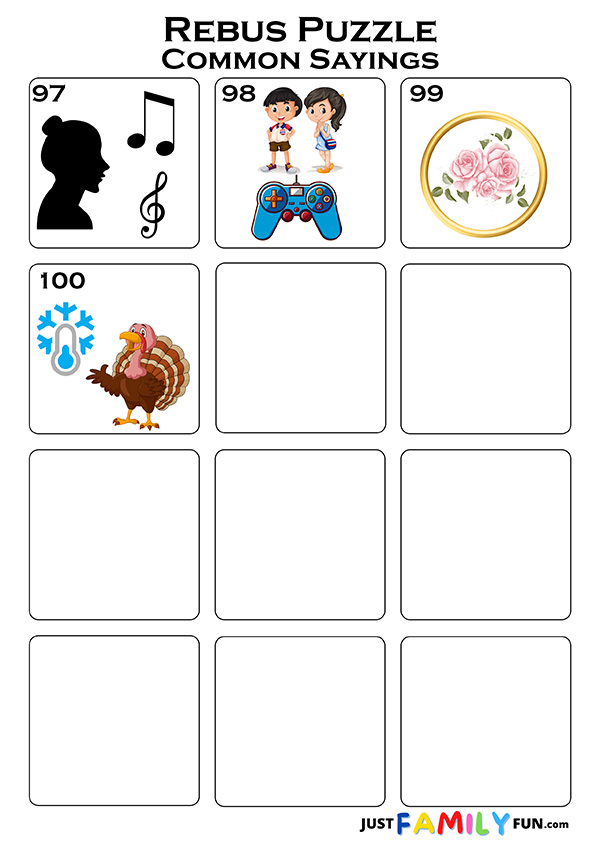 Rebus Puzzle Answers
97. Face the music
98. Two can play that game
99. Ring around the Rosie
100. Cold turkey
If you had a blast with our latest rebus puzzles, you're in for a treat! Explore more brain teasers like our guess the word emoji puzzles or dive into a greater challenge with our 100 pages of word scrambles. Check out all our puzzles by clicking here!
If you're interested in making your own rebus puzzles, we strongly recommend checking out this rebus puzzle generator here. We had a great time experimenting with it, and the best part is that it's completely free!